Hospitals
Compassionate healthcare for holistic healing
Leprosy has been bringing untold suffering to humankind, and that continues even now in the 21st Century. The Leprosy Mission Trust India (TLMTI), through its Healthcare programme implemented through it's 15 hospitals provides compassionate healthcare to leprosy patients to bring healing, inclusion, and dignity in their lives.
TLMTI implements its Health programme in nine states of India through it's 15 hospitals. All TLMTI hospitals are recognised by the Government of India as tertiary leprosy referral hospitals.
The hospitals provide specialised services in leprosy, including provision of multidrug therapy; management of lepra reactions and neuritis; ulcer care; care of insensitive hands and feet; specialised disability assessment and management; correction of deformities and reconstructive surgery; occupational and physiotherapy; aids and appliances, such as splints, orthosis and prosthesis; counselling; training in the prevention of further disability; treatment of eye problems; and general healthcare. They also extend their services to other disadvantaged groups in the local community. This provides an opportunity for members of the local community to interact with people affected by leprosy, and this goes a long way in reducing leprosy stigma.
All TLMTI hospitals have well-trained medical staff with decades of experience in treating leprosy and leprosy-related issues. Every year, the hospitals diagnose around 6,000 new cases of leprosy. Also, around 6,000 leprosy-cured patients visit these hospitals for treatment of the complications of the disease. The hospitals provide around 460,000 consultations for skin diseases, 30,000 consultations for eye problems, 80,000 general medical consultations, 2,500 eye surgeries, 2,000 minor surgical procedures, and 250 major surgical procedures.
TLMTI has a rich history of providing compassionate care to leprosy patients from all over the country. Its hospital in Naini, Uttar Pradesh (the oldest TLMTI hospital and the largest hospital for management of leprosy in the country) has completed 140 years of service, while 10 of its other hospitals completed 100 years of service. With each passing day, TLMTI's commitment to bring healing, inclusion, and dignity in the lives of people affected by leprosy is strengthened, and its hospitals play a crucial role in this.
TLMTI hospitals and the states where they are situated are: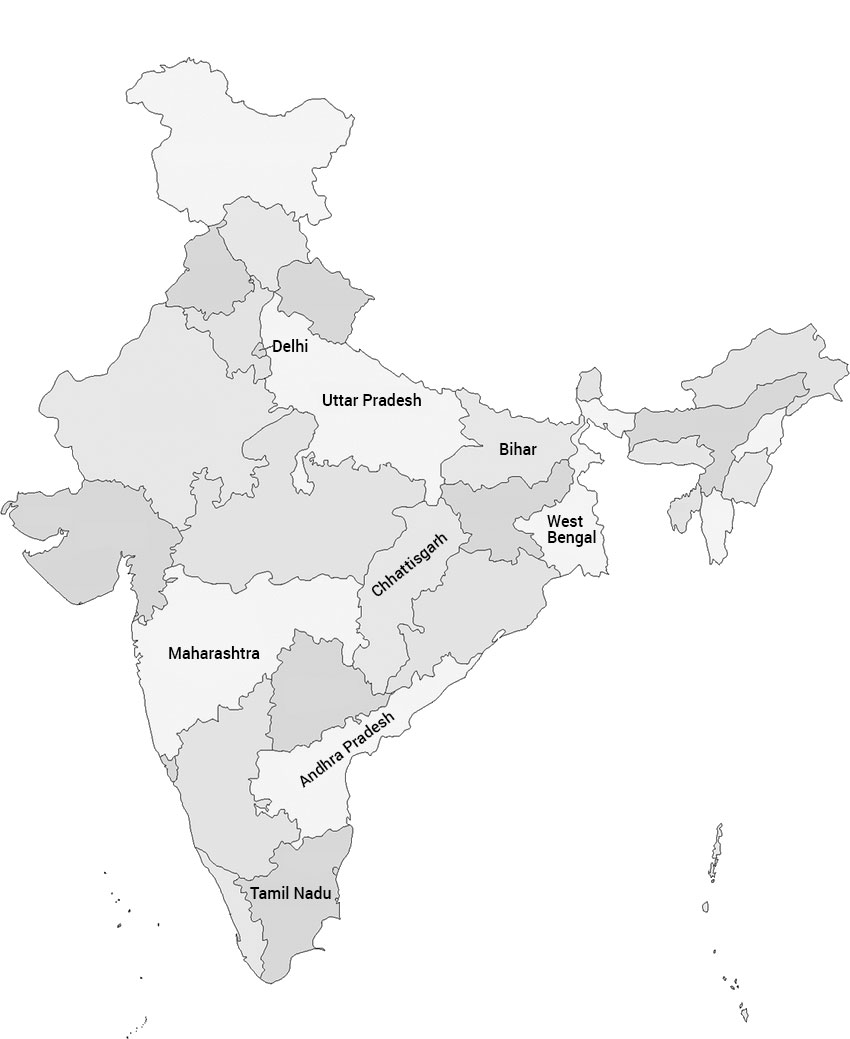 Andhra Pradesh TLM Salur Hospital
Bihar TLM Muzaffarpur Hospital
Chhattisgarh TLM Champa Hospital and TLM Chandkhuri Hospital
Delhi TLM Shahdara Hospital
Maharashtra TLM Kothara Hospital and TLM Miraj Hospital
Tamil Nadu TLM Dayapuram Hospital and TLM Vadathorasalur Hospital
Uttar Pradesh TLM Barabanki Hospital, TLM Faizabad Hospital and TLM Naini Hospital
West Bengal TLM Kolkata Hospital and TLM Purulia Hospital
Karnataka TLM Belgaum Hospital