Healing Hands, Caring Hearts
Dedication beyond measure, that's TLMTI's healthcare programme
The Leprosy Mission Trust India (TLMTI) is committed to providing the best leprosy care to people affected by leprosy, and the best healthcare to the general public in various medical specialities. Through its community outreach initiatives, TLMTI engages with and educates rural communities on matters of health, and provides them health check-ups and medical care. Its Health programme is implemented through a network of 15 hospitals spread across 09 states of India.
Leprosy is curable, and if diagnosed and treated at an early stage, long-term complications can be prevented. However, many people affected by the disease are unable to access quality healthcare, and this leads to lifelong disabilities. The stigma associated with leprosy discourages people from seeking timely treatment. There is a high degree of variation in the availability and utilisation of health services in different parts of the country. Government hospitals and health centres provide multidrug therapy (MDT), but they are not uniform in providing services for complications of leprosy. Some provide services for the management of medical complications of leprosy and some provide services for the management of complications requiring specialised care, like reconstructive surgery.
TLMTI works to improve and promote the health of persons suffering from leprosy and address the health problems of those who suffer from disability due to other reasons.
Because of the varied manifestations of leprosy, TLMTI, in dealing with the various problems of the disease, has acquired experience and skills in various medical and surgical disciplines. Some of them are:
General Surgery
Ophthalmology
Obstetrics and Gynaecology
Disability in other Neglected Tropical Diseases (NTDs)
Dermatology
Disability Prevention and Management
General Medicine
General Surgery
Ophthalmology
Obstetrics and Gynaecology
Disability in other Neglected Tropical Diseases (NTDs)
Dermatology
Disability Prevention and Management
In addition, TLMTI provides obstetric services in some of the areas of need, where it has its hospitals.
TLMTI implements its Healthcare programme in 09 states of India through 15 hospitals. These hospitals and clinics are: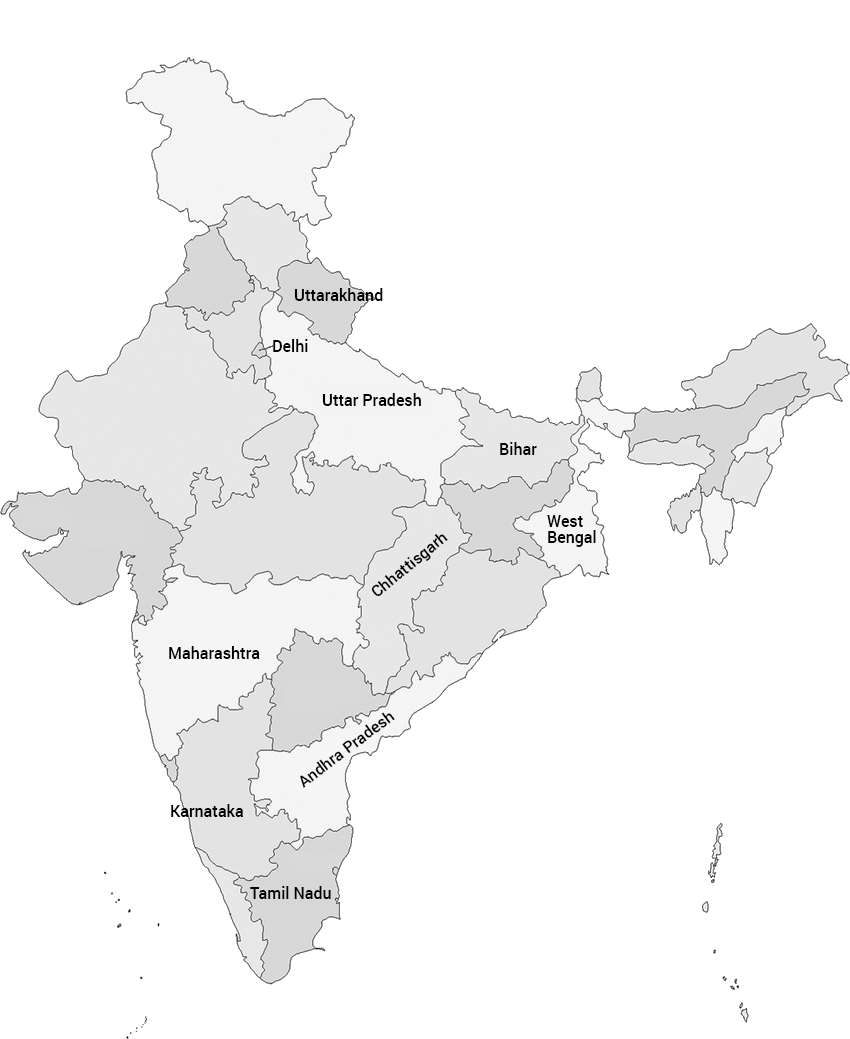 Andhra Pradesh TLM Salur Hospital
Bihar TLM Muzaffarpur Hospital
Chhattisgarh TLM Champa Hospital, TLM Chandhkuri Hospital
Delhi TLM Shahdara Hospital
Karnataka TLM Belgaum Hospital
Maharashtra TLM Kothara Hospital, TLM Miraj Hospital
Tamil Nadu TLM Dayapuram Hospital, TLM Vadathorasalur Hospital
Uttar Pradesh TLM Barabanki Hospital, TLM Faizabad Hospital, TLM Naini Hospital
West Bengal TLM Kolkata Hospital, TLM Purulia Hospital
All TLMTI hospitals are recognised by the Government of India as tertiary leprosy referral hospitals. They provide specialised services in leprosy, including the provision of multidrug therapy; management of lepra reactions and neuritis; ulcer care; care of insensitive hands and feet; specialised disability assessment and management; correction of deformities and reconstructive surgery; occupational and physiotherapy; aids and appliances, such as splints, orthosis and prosthesis; counselling; training in the prevention of further disability; treatment of eye problems; and general healthcare.
They also extend their services to other disadvantaged groups in the local community. This provides an opportunity for members of the local community to interact with people affected by leprosy and helps in reducing stigma.
TLMTI is a member of the International Federation of Anti-Leprosy Associations (ILEP) and plays a major role in the implementation of Government of India's National Leprosy Eradication Programme (NLEP). In two states (Chhattisgarh and Maharashtra) TLMTI works as NLEP coordinator and supports the government in building the capacity of NLEP staff in leprosy.
TLMTI provides holistic geriatric care to elderly persons affected by leprosy and rejected by their families because of the stigma associated with leprosy and leprosy-related disabilities, through its five Snehalayas.
They are taken care of in residential settings in its four Snehalayas (Snehalaya is a Hindi term which means House of Love) spread across two states. These states and the Snehalayas are:
TLMTI has well-trained medical staff with decades of experience in treating leprosy and its complications. Every hospital has trained counsellors to help patients, their families, and communities in understanding and accepting the disease and those affected by it. Counsellors also provide career guidance to young boys and girls with disabilities for vocational training and job opportunities.
Every year, TLMTI diagnoses over 6,000 new cases of leprosy, of which over 3,800 are multibacillary (MB) cases, and the remaining are paucibacillary (PB) cases. Many patients who had been treated and cured of leprosy visit TLMTI hospitals for getting treatment for complications of the disease. They account for another 5,000 to 6,000 every year.
All TLMTI hospitals provide healthcare other than leprosy-specific services. All of them provide dermatology services, whereas six hospitals provide ophthalmology services, and two provide obstetrics and gynaecology services.
Every year, TLMTI hospitals provide over 567,000 consultations for skin diseases, 88,000 general medical consultations and 34,000 consultations for eye problems. They perform over 2,900 eye surgeries, 1,100 minor surgical procedures and 400 major general surgical procedures.