Propel your Potential
Develop skills for driving social change
The Leprosy Mission Trust India's (TLMTI) internship and volunteer programme is challenging, yet rewarding for those committed to social change and to upskill themselves at the same time. By being part of this programme, you can contribute to our initiatives to bring holistic healing, social inclusion, and human dignity to people affected by leprosy. Also, it will give you a sense of satisfaction and kick-start your career.
Leprosy is very likely the oldest infectious disease in human history, yet it is one of the most misunderstood diseases. There is an age-old stigma associated with the disease, primarily because of the disfigurement it causes (if not detected and treated early) and the lack of understanding of how it is transmitted. There are a lot of myths and misconceptions associated with the disease and because of this, people affected by leprosy are discriminated against and are ostracised by society.
For over 140 years, TLMTI works to provide holistic healing, social inclusion and human dignity to people affected by leprosy. Its transformational social change initiatives are implemented through a diverse set of programmes, namely Healthcare, Sustainable Livelihood, Community Empowerment, Advocacy, and Research and Training – through 14 hospitals and two clinics, six vocational training centres, five residential care homes for elderly persons affected by leprosy, a molecular research laboratory, and nine community empowerment projects spread across 10 states of India.
Are you looking for opportunities to propel your potential and develop skills for driving social change? We provide you with volunteering opportunities and unpaid internships, which will help you upskill yourself to become part of a great social change movement. Also, you will gain professional development and a first decisive step on your career path.
We offer the following learning opportunities:
Internship for students
Electives for medical and paramedical students
Volunteering for individuals or groups
Short visits for individuals or groups
Internship and volunteer programme locations: We have our institutions and projects (14 hospitals and two clinics, six vocational training centres, a molecular laboratory, and nine community empowerment projects) in the following 10 states: Andhra Pradesh, Bihar, Chhattisgarh, Delhi, Karnataka, Maharashtra, Tamil Nadu, Uttarakhand, Uttar Pradesh and West Bengal. You can do an internship or volunteer in these institutions and projects if and when opportunities are available.
Interested in discovering life-changing opportunities? Get in touch with us today.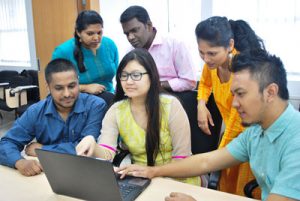 Work Environment
At TLMTI, we are committed to creating a healthy, productive, and fulfilling working environment for all employees. In all TLMTI institutions and projects, workplace communication is open and transparent. Staff have an unflinching commitment to excellence, supported by a strong team spirit. TLMTI provides opportunities for the personal and professional development of its staff. We maintain high ethical standards. You will find a sense of fulfilment working with us.
FAQs
Frequently Asked Questions
Individuals, couples, families, or students, who have a heart to serve, without expecting a material reward, can volunteer with us.
Duration of the volunteer programme depends on your availability for the period. Generally, the programme is for two weeks to four weeks. It can be extended on mutual agreement.
You should have completed 18 years of age for volunteering.
A wide range of opportunities, ranging from education, healthcare, women empowerment, awareness-raising, community development and counselling are available. You can select your convenient location and the project you are interested in.
You should be above 18 years of age, should be in college/recent pass out, and should be able to put in four weeks to six weeks.