World Photography Day 2019: A documentary photographer tells her experience in working with persons affected by leprosy
World Photography Day 2019: A documentary photographer tells her experience in working with persons affected by leprosy
On the occasion of World Photography Day (August 19), we spoke to Ms Sarika Gulati (https://www.facebook.com/sarika.shuangren), documentary photographer and an arts-based therapy practitioner on her experience during her assignments in working with The Leprosy Mission Trust India (TLMTI) for documenting the stories of people affected by leprosy and capturing their courage in the face of adversity, through her photographs. As stated by Robert Frank, the Swiss-American photographer and documentary filmmaker, "There is one thing a photograph must contain – the humanity of the moment."Below are the edited excerpts:
On capturing beautiful images as a photographer
As a documentary photographer, I tell visual human stories. If the photograph connects and can speak to an audience, it becomes effective and meaningful.
On whether she was apprehensive when first commissioned by TLMTI to document stories and capture photographs of persons affected by leprosy (due to the stigma associated with the disease)

I remember my first assignment with TLMTI. It was in TLMTI's Naini Hospital in Prayagraj, Uttar Pradesh. I was apprehensive and had several questions in my mind about leprosy. All my doubts were cleared by the doctors, physiotherapists and other TLMTI staff over a period of time.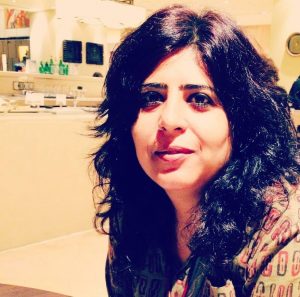 Ms Sarika Gulati
On the myths about leprosy that were cleared while working with TLMTI
In the society we live, physical deformity is not an accepted norm and it creates fear and abhorrence. I feared that I would be affected by leprosy if I touched leprosy patients and that it would lead to physical deformity. While working with TLMTI, I had to mingle and spend time with persons affected by leprosy (for documenting their stories and capturing their photographs). This helped dispel all myths about leprosy.
Leprosy, also known as Hansen's Disease, is curable with multidrug therapy (MDT). Early diagnosis and treatment can prevent disability. A patient becomes non-infectious within one week, most often, after the very first dose of MDT.
On her feelings and emotions while capturing the struggles of persons affected by leprosy
Documenting the work of TLMTI has always been about 'hope for a better future and giving everyone a chance to live with dignity'. I feel inspired by the persons affected by leprosy that I have met on my assignments. Despite their struggles, they are the champions contributing to the society. Personally, I feel happy and privileged to meet them and share their story.
On what she wants to tell others about leprosy stigma and on how we should support persons affected by leprosy to live with dignity
India accounts for 60 per cent of the world's new leprosy cases. Leprosy continues to be stigmatised in the society due to lack of awareness about the disease. Fear of stigma and social exclusion discourages individuals and their families from seeking the help they need. The delay in seeking proper care leads to physical deformities and affects the quality of life.
Leprosy is a curable disease and is not transmitted by touch. Over 99 per cent of the population have adequate natural immunity. Persons affected by leprosy are no less human than any of us. There is a need to raise awareness about leprosy to create an informed and empathetic environment for persons affected by leprosy to live with dignity, support them so that those affected can come forward for early and effective treatment, are able to access mainstream services, and accepted as a part of society.
On what excites her about working with TLMTI
As a pioneer in the health and community development sector, TLMTI implements its programmes – Healthcare, Sustainable Livelihood, Community Empowerment, Advocacy, and Research and Training – in 10 states of India. I have had the opportunity to document their work in hospitals as well as in the community. I believe photography is a powerful tool to influence and impact the world around us. I feel excited to be part of social change to raise awareness about leprosy and eradicate the disease!
On some of her favourite images and why they are important to her
One of my favourite photographs is of Dr Premal Das examining a leprosy patient after her reconstructive surgery. Dr Premal Das, a reconstructive surgeon in TLMTI's hospital in Prayagraj, Uttar Pradesh, has dedicated his life, treating leprosy patients. He conducts around 400 reconstructive surgeries in a year. These are done absolutely free of charge. TLMTI surgeons perform over 1,000 reconstructive surgeries every year and no one has ever been denied treatment for lack of funds. It's been several decades, and the healing work continues!
Another photograph I keep close to my heart is of 67-year-old Moharmati. Left by her family when she was affected by leprosy, Moharmati has emerged as a leader and now sensitises people to leprosy. She runs a petty shop in Ghoghra Nallah in Janjgir-Champa in Chhattisgarh. A leader in the community and financially independent woman, Moharmati is an inspiration for all.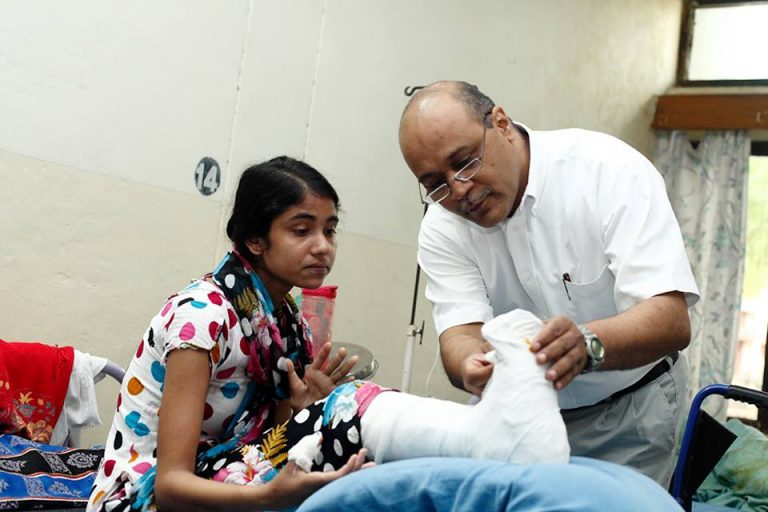 Dr Premal Das examining a leprosy patient after her
reconstructive surgery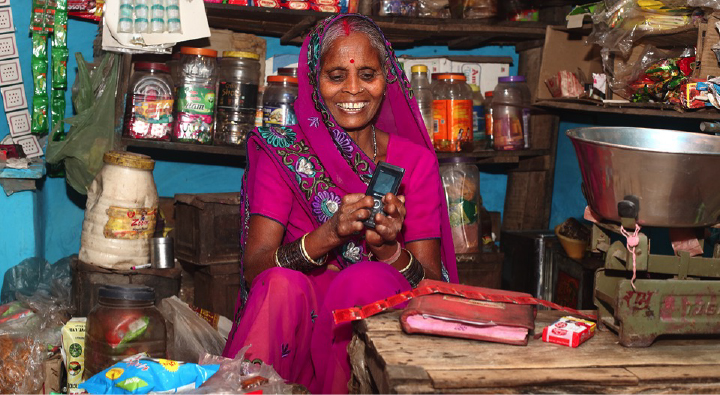 Moharmati in her petty shop