Why life is a beautiful struggle? Ask Papa Rao
Why life is a beautiful struggle? Ask Papa Rao
When Papa Rao opened the gate and glanced up, he saw the name painted in bold letters. His heart missed a beat. Rather than the sweltering summer sun, it was the thought of studying in such an honoured institute that made him sweat. His parents who followed him tried to console him.
But the name, THE LEPROSY MISSION PLATINUM VOCATIONAL TRAINING CENTRE refused to disappear from his mental screen. "Will I be able to study in this esteemed institute?" he asked himself many times over.
Papa Rao is from a humble background. He belongs to a little-known village in Vizianagaram, Andhra Pradesh. Both his parents are affected by leprosy and they lived off charity. Poverty, leprosy stigma and social rejection – he thought the world was conspiring to destroy them.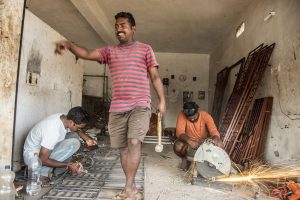 Papa Rao in his welding shop
He had come to The Leprosy Mission Trust India's Vocational Training Centre (VTC) in Vizianagaram (Platinum Vocational Training Centre) for attending an interview. The VTC admitted him for a course in welding and gave him free education, boarding and lodging as he is from a family affected by leprosy. Apart from his chosen trade of welding, Papa Rao also received training in core life skills, such as critical thinking, problem-solving, decision-making, communication and leadership.
His one-year training at the VTC was a life-changing experience for Papa Rao. And that reignited his dream of earning his place in the sun. He decided to slog it out and succeed. He remembered Margaret Thatcher's words, often quoted by one of his instructors, "I do not know anyone who has got to the top without hard work. That is the recipe. It will not always get you to the top but should get you pretty near."
That's why after graduating, even when he had to work in many places as a low-paid welder, he didn't give up his pet ambition to have his own welding business. In 2014, he scraped together Rs 75,000, rented a shop in Vizianagaram, bought welding equipment and started his own business.
His business flourished and within six months, he was well-established in the field. "When I started working after graduating from the VTC, I used to earn Rs 400 a day. Today I earn Rs 25,000 a month," says a grateful Papa Rao.
The VTC was impressed with Papa Rao's technical skills and his positive attitude. In 2016, the VTC invited him to work as an instructor for three months in the CREATE project-initiated community-based vocational training programme and offered him a remuneration of Rs 4,000 a month. He gladly agreed as it was his passion to support many others like him to get decent livelihood opportunities. "I felt thrilled and honoured to work as an instructor in the VTC where I was once a student," says 25-year-old Papa Rao.
As his business thrived, Papa Rao employed two students who graduated from the VTC. Today he is well-settled and aspires to expand his business further and buy advanced welding equipment and employ more VTC graduates. "Leprosy still has a strong stigma associated with it. Because I have a background of leprosy, I understand the pain of stigmatisation and discrimination first-hand. I want to provide job opportunities to young boys and girls affected by leprosy and give them an opportunity to overcome the challenges of leprosy and live with dignity." Papa Rao's words have the conviction of someone who has decided to make the world a better place to live – in his own small way.