What's great about Kailash Belsare?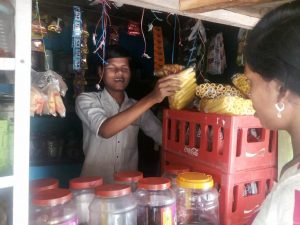 22-year-old Kailash Belsare belongs to a tribal community in Baglinga village in Amravati district of Maharashtra. He runs a grocery store in his village and earns more than Rs 250 every day. And his family, comprising his mother and brother, lives comfortably with this income.
But what's great about it? You may ask.
It's a great feat considering that Kailash is visually impaired from birth. He studied up to 9th standard in a 'Blind School'. He was forced to drop out of school as his father died and the responsibility of running the family fell on his shoulders.
Kailash is one who doesn't get frightened by challenges. He waited for opportunities. Having come to know about his disability, TLMTI's community development project working with persons with disabilities (Inclusive Holistic Development of Individuals with Disabilities, or IHDID project) staff met Kailash. The project helped him to develop a business plan and helped him to get a livelihood loan from the Government of Maharashtra. With that money, he opened a grocery store. He is very popular in his village… people in Baglinga love this overcomer!
Then it was payback time for Kailash. With the support of IHDID project, he mobilised persons with disabilities in his village and formed a Disabled People's Organisation (DPO) – Sangarsh DPO – and got it registered with the Government of Maharashtra. All the DPO members have availed the various government social security schemes for persons with disabilities.
"My work has just started. I can rest only after all persons with disabilities in my village access their rights and entitlements," says an invincible Kailash.