Vertical Livelihood Model: An innovative approach to income generation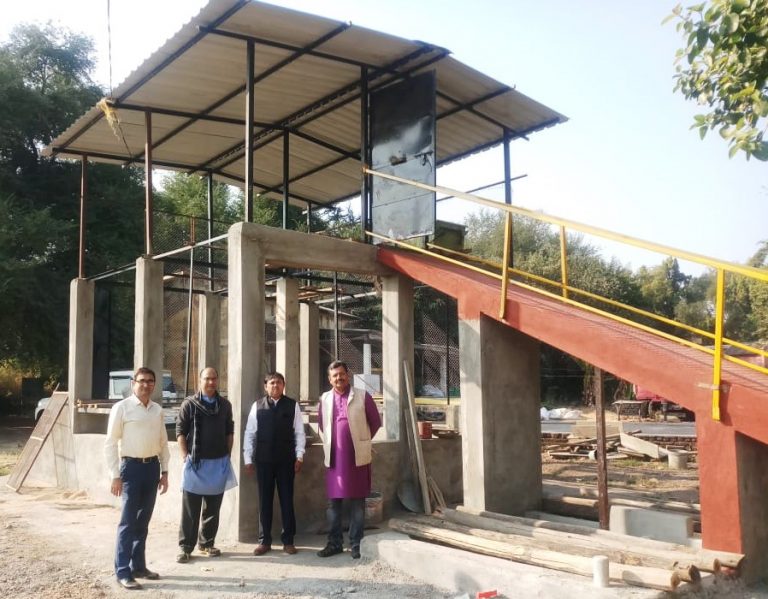 Many people find it difficult to start livelihood initiatives just because they do not have enough land to start a new business or expand their existing one.
Understanding the predicament of many such people, The Leprosy Mission Trust India's IHDID project, a community development project working for inclusive, holistic development of persons with disabilities, based in Kothara, Maharashtra, developed an innovative solution. It developed a livelihood model with five types of activities that can be done on a 20 feet X 20 feet plot of land. It's like this: a three-tier structure will be built (on this 20 feet X 20 feet plot of land) where a goat farm, a poultry farm, and a fish farm can be started. The top tier is meant for goats, where 20 of them can be reared; the middle one can accommodate 50 chickens, and the lowest one can be used as a pond where around 400 kilograms of fish can be grown. Moreover, goat manure and the chicken waste can be used in a compost pit made near the structure, and the compost can be used in a kitchen garden to produce organic vegetables.
It requires an initial investment of Rs one lakh to start the business and it will yield a monthly profit of not less than Rs 10,000 initially. This Vertical Livelihood Model, as it is called, is a cost-effective way for income generation.
Already three persons with disabilities have started this programme and over 20 have shown interest in starting this.
The project constructed a Vertical Livelihood Demonstration Centre at TLM Kothara Hospital premises, in Maharashtra, and it was inaugurated by Mr Umesh Baurai, Advocacy and Livelihood Manager, CBM India, in the presence of The Hans Foundation team and TLMTI staff, on December 20.
The project team has approached the Chief Commissioner for Persons with Disabilities, Maharashtra and the District Collector, Amravati who have shown interest in adopting this model to replicate throughout Maharashtra, after they see it for themselves.
Congratulations, Suresh Dhondge and your team for this innovation, which we are sure will open new avenues for income generation for persons with disabilities and people from other marginalised communities.