TLMTI presents papers on the 67th Foundation Day of the India Association of Leprologists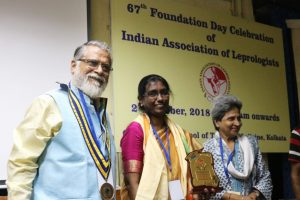 KOLKATA (WEST BENGAL):  The Indian Association of Leprologists (http://ial-leprosy.org ), a national organisation founded by the Late Dr Dharmender and his team in 1950, celebrated its 67th Foundation Day, on October 2, 2018, at General Lecture Theatre, School of Tropical Medicine, Kolkata.
Dr Helen Roberts, Medical Superintendent, The Leprosy Mission Trust India's (TLMTI) Kolkata Hospital and Dr Utpal Sengupa, Consultant, TLMTI's Stanley Browne Research Laboratory, New Delhi, were special invitees to the event.
Dr Helen presented a paper on 'Leprosy – Present Presentation and Management', and Dr Utpal Sengupa on 'Vaccines in Leprosy', based on TLMTI's vast expertise in the field of leprosy.