This is how 14 persons affected by leprosy came back to normal life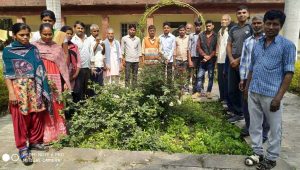 People affected by leprosy who underwent reconstructive surgery
FAIZABAD (UTTAR PRADESH): Fourteen persons affected by leprosy received a new lease of life last month, when Dr Premal Das, The Leprosy Mission Trust India's (TLMTI) renowned surgeon performed reconstructive surgery (RCS) on them to correct their leprosy-related deformities.
It was in a 2-day RCS camp conducted by TLM Faizabad Hospital, in Uttar Pradesh that they underwent surgery.
Involvement of peripheral nerve is common in leprosy, leading to deformity in hand, foot, or eye in people affected by the disease. RCS is essential to correct their deformity and improve their functional ability. For the successful outcome of surgery, pre- and post-operative physiotherapy are crucial and are an integral part of the RCS process.
Reconstructive surgery is an ongoing programme at TLM Faizabad Hospital, with RCS camps being conducted every month. During the last five months alone, 70 RCS procedures were done. The hospital is in the process of constructing an operation theatre and thereafter, RCS will be one of the major programmes of the hospital.   Thus, the hospital will play a crucial role in the medical rehabilitation of people affected by leprosy.
Every year, TLMTI's surgeons perform over 1,200 reconstructive surgeries on persons affected by leprosy. It's dedicated team of doctors, nursing staff, physiotherapists, and other support staff work together to provide quality medical rehabilitation services, thus bringing them back to normal life.