Sharing the best practices to address disability effectively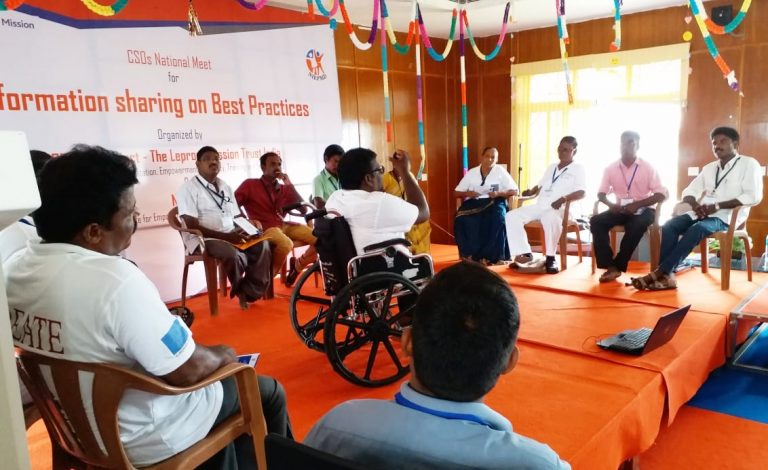 CHENNAI: Identifying the best way of doing something (best practices) and sharing them is critical to continuous improvement. This helps bring everyone up to their highest level of performance. And that's what The Leprosy Mission Trust India's (TLMTI) CREATE project, along with National Institute for Empowerment of Persons with Multiple Disabilities (NIEPMD) (http://www.niepmd.tn.nic.in/), did in a 3-day national-level workshop for sharing best practices by DPOs (disabled peoples' organisations).

In the workshop organised in Chennai from June 27-29, 62 leaders of civil society organisations(CSOs) and leprosy champions from Andhra Pradesh and Tamil Nadu, and representatives of NGOs working for rehabilitation of persons with disabilities came together and shared the best practices in the areas of resource mobilisation, community empowerment, advocacy, training, employment, and overcoming the challenges of leprosy stigma.
Some of the dignitaries who attended the programme and spoke on various topics include Dr Himangshu Das, Director, NIEPMD; Dr Mary Verghese, Executive Director, TLMTI; Mr Thomas, Director, INTACT India; Ms Tina Mendis, Head of Sustainable Livelihood, TLMTI; Ms Nikita Sarah, Head of Advocacy and Communication, TLMTI; Mr Victor, Director, Brighter Future Development Trust; Dr Amarnath, Head of Department of social work, NIEPMD; and Mr Lobithas, consultant, disability management.