Robin Sharma, one of the world's top leadership gurus, joins the fight against leprosy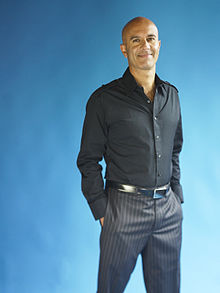 NEW DELHI: With 15 million books in 70 languages sold in over 96 countries; with rock stars, royalty, billionaires and many celebrity CEOs embracing his work; with clients, such as Starbucks, Nike, GE, The Coca-Cola Company, NASA and Microsoft using his leadership methods to drive real growth and top performance, Robin Sharma (https://www.robinsharma.com/), the Canadian author of 15 bestsellers, including The Monk Who Sold His Ferrari, is undoubtedly a globally celebrated leadership expert – one of the top 5 leadership experts in the world.
Now, the fight against leprosy has taken a new dimension with Robin Sharma joining the fight.
He says:
"I've decided to spend the next number of years of my life helping to eliminate leprosy from the world… the idea came from a profound conversation I had with my father, a family doctor for 54 years… he opened my eyes to the suffering of those with the affliction, especially kids. They are isolated from society and face very real mountains of pain."
Watch his video here: http://bit.ly/2Qy6wBb
Continuing on the commitment, Robin Sharma Foundation for Children has donated a significant amount to effect:hope (TLM Canada) (https://effecthope.org/) for treatment and rehabilitation of children affected by leprosy in India.
This donation will provide an early diagnosis and cure for children affected by leprosy, vocational training so they can learn valuable skills and earn a livelihood, specialised footwear to protect them from wounds that can lead to ulcers, and community education to reduce the stigma and isolation experienced by children and families affected by leprosy.
This donation will help children affected by leprosy realise their full potential and live with dignity.
Thank you, Robin. It's people like you who motivate us to continue the fight even when the situation seems bleak!