Rising to the occasion for driving patient comfort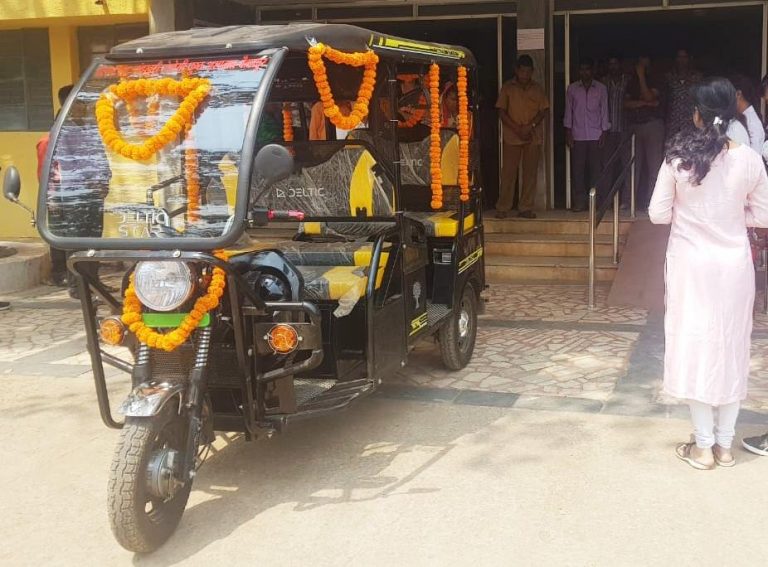 CHANDKHURI (CHHATTISGARH): March 16 was a day of rejoicing for hundreds of patients who visit TLM Chandkhuri Hospital in Chhattisgarh every day.
The hospital is situated 1 ½ km away from the bus stand on the newly opened National Highway 130 and the patients had to walk all the way to the hospital, as there were no other means of transport. Trekking on the dirt track was so cumbersome – especially for people affected by leprosy with disabilities – that many patients stopped visiting the hospital altogether.
The hospital team realised the need to have reliable, safe transport for the patients who visit the hospital. They came together, brainstormed and decided to operate e-rickshaws – a cost-effective, non-polluting solution. But the question was, where will the money come from?
Understanding the need, Mr Sanjay, who knows the exemplary work of the hospital, donated money for an e-rickshaw.
Without wasting time, the hospital bought an e-rickshaw and the service was inaugurated on March 16.
Every day at 8 in the morning, the rickshaw arrives at the bus stand and makes trips bringing patients to the hospital free of charge. The rickshaw makes around 30 trips every day ferrying over 100 patients to the hospital.
By rising to the occasion, the hospital has once again shown its commitment to the well-being of people affected by leprosy and patients from marginalised communities.