Recognising and celebrating success at work
Recognising and celebrating success at work
Every year, The Leprosy Mission Trust India (TLMTI) recognises outstanding work of its hospitals, vocational training centres and community empowerment projects with performance awards.
Awards for 2018 was given away during TLMTI's Annual Leadership Consultation held from January 21-23, 2019.
Here are the 2018 award winners:
AWARD CATEGORY: PROGRAMME SUSTAINABILITY
1) TLM Muzaffarpur Hospital, Bihar
2) TLM Chandkhuri Hospital, Chhattisgarh
3) TLM Miraj Hospital, Maharashtra
4) TLM Vadathorasalur Vocational Training Centre, Tamil Nadu
5) TLM Faizabad Vocational Training Centre, Uttar Pradesh
6) CREATE (CSOs for Resource Mobilisation, Empowerment, Advocacy, Training and Employment) project
AWARD CATEGORY: INNOVATION
1) TLM Champa Vocational Training Centre, Chhattisgarh: Award for developing technology-enabled learning through TLM Shiksha App.
2) TLM Vadathorasalur Vocational Training Centre, Tamil Nadu: Award for creating value out of waste through #ScrapChallenge2018.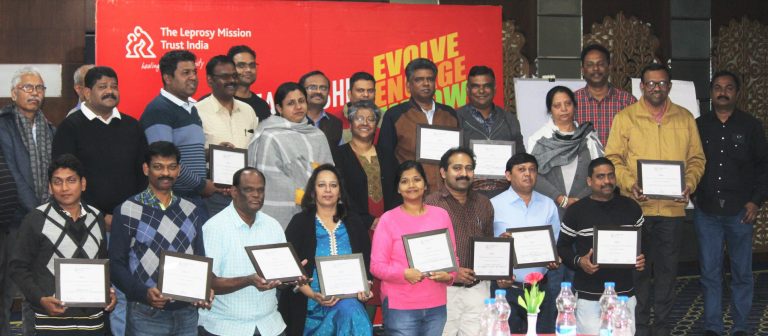 Award winners with TLMTI's Operation Team and national programme coordinators

AWARD CATEGORY: NEW INITIATIVES
1) IHDID (Inclusive Holistic Development of Individuals with Disabilities) project, Kothara, Maharashtra: Recognition for introducing vertical livelihood model, an innovative approach to income generation.
2) TLM Faizabad (hospital and vocational training centre), Uttar Pradesh: Recognition for installing a reverse osmosis (RO) water treatment plant for clean and safe drinking water.
3) Advocacy and Communication domain: Recognition for the pioneering approach to spreading awareness about leprosy, through a campaign mascot.
4) CUFA (Children Unite for Action) project: Recognition for automating the Management Information System.