Prassana Kumar's dreams are made to flourish
Prassana Kumar's dreams are made to flourish
Gottapu Ramu's is a typical household in rural India–no landholding; the man of the house doing sundry jobs to keep the home fires burning; unable to get a proper education, children while away their time ending up mostly as casual labourers. But Gottapu Ramu's family didn't fully fit into the stereotype. His son was good at studies and nurtured dreams of becoming a mechanical engineer!
There was a time when his son thought his dreams would perish as fate was scripting another story for him.
Gottapu Ramu belongs to Gurunaidupeta village in Vizianagaram district of Andhra Pradesh. With his wife Jaya, a homemaker, he lives in a house provided by the government under its Pradhan Mantri Awaas Yojana – Gramin (PMAY-G), a central government-sponsored housing scheme for rural poor. Being an agricultural labourer, he gets work only during planting and harvesting seasons, and that too only for 165 days in a year. With his daily earning of Rs 200, Ramu found it difficult to make both ends meet.
As there was no school in his village, his 13-year-old son, Prassana Kumar, pestered him with the request to send him elsewhere where he could attend school. Finally, Ramu sent him to live with his brother, a person cured of leprosy, in the nearby town. "There is a government school near my brother's house, and my son can study there to realise his dream of getting a good education," says Ramu. Prassana Kumar enjoyed living with his uncle where he could attend school and take an active part in extracurricular activities. He made a lot of friends – children were vying with each other to make friends with a bright student!
While he was there, Prassana Kumar observed white patches on his right hand and abdomen. Initially, he ignored them, but after a few months, he found that he could not keep his fingers straight-they had clawed in. He could not hold books or write. He even couldn't eat with that hand. Perturbed, his father took him to the government hospital in Vizianagaram, where he was diagnosed with leprosy and was put on multidrug therapy (MDT).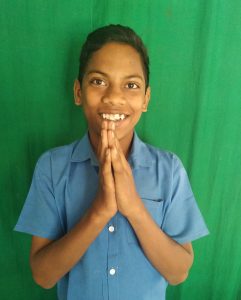 Prassana Kumar, after he underwent reconstructive surgery

Ramu was shocked. More than leprosy, it was the thought of his son not able to realise his career dreams that bothered him.
Prassana Kumar's classmates came to know that he was affected by leprosy and refused to sit with him on the same bench or play with him. They made fun of his clawed hand. Bereft of friends, Prassana Kumar withdrew into the cocoon leprosy stigma has woven for him. Unable to bear the humiliation, he stopped going to school.
Ramu knew reconstructive surgery would make his son's hand normal, but didn't know where to go and how to meet the expenses. But Ramu was lucky. Lucky enough to visit a community health camp conducted by The Leprosy Mission Trust India's Salur Hospital, in his village. Understanding Ramu's predicament, the hospital promised to perform reconstructive surgery for his son free of cost and got him admitted to the hospital.
A few months back, Prassana Kumar underwent reconstructive surgery and his right hand is now normal. "I'm surprised at the 'magic' TLM surgeons have done on my hand. I never thought this could happen," says Prassana Kumar with a beaming smile. In the meantime, the awareness-raising done by TLMTI helped in reducing the stigma associated with leprosy. Back at the school, Prassana Kumar again became popular as he was always.
While in the hospital, Prassana Kumar had shared with the hospital staff his ambition to become a mechanical engineer. The hospital plans to admit him in TLMTI's vocational training centre after he passes out from school, in Vizianagaram, where he can do a 2-year mechanical engineering course.
"Now, I'm sure my ambition to become a mechanical engineer will become a reality. After I get a job, I want to support my parents. I also want to support TLM hospital in providing free reconstructive surgery support to many young boys and girls like me," says Prassana Kumar with buoyant confidence.