I will make tasty Samosas with my own hands and feed you
I reached my desk after the morning devotion at the hospital chapel on that sunny June morning. I felt energised. As a patient counsellor at TLM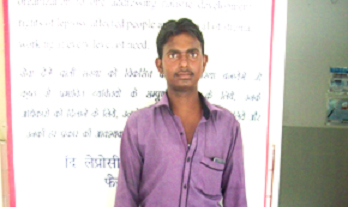 Hospital, Barabanki, I expected a lot of patients that day. Suddenly, eighteen-year-old Sarvesh appeared in front of me.
He was very polite and looked confident. He asked my help to get him medicines for four months. Usually, we give medicines only for one month. I asked why he needed medicines for four months. He narrated his story.
"I was studying in 8th standard in a government school in Bichiya village, in Unnao district of Uttar Pradesh. I was 15 years old at that time. One day my father met with an accident. Unfortunately, it was one day before my elder sister's marriage. He had head injury and was bed-ridden for several months. He is a farm labourer earning very little, ours is a big family with six children. We found it very difficult to survive with the meagre income.
Two years before that, my elder brother had left studies and joined my father as a farm labourer. Now my turn has come to leave studies so that I can help my elder brother to take care of the family's livelihood needs and also my father's medical expenses. My brother couldn't find a job for me in my village. There were some boys in my village who worked in Rajasthan. I requested them to find a job for me in Rajasthan for quite some time. At last, one of them took me to Rajasthan. There, I got a small job collecting flower baskets used for bringing flowers to a Hindu temple for pooja.
One day I was having samosa (a small triangular pastry case containing spiced vegetable, served fried) for my breakfast, and was surprised by its taste.  I went to the shop which was nearby to see how they made samosas. During my leisure time, I started helping them in making samosas, and in due course, I learnt to make tasty samosas!
My life continued like that for some time. After a couple of months, I found some white patches on my body; while sitting outside in the Su
n, the white patches on my face flared up which was giving me an odd look. Gradually, I lost sensation on my left hand. Not knowing what to do, I took treatment from a nearby medical practitioner for many months, but the condition of my left hand worsened; it started becoming very weak. I found it difficult to work.
I left my job and came back to my village to take proper treatment. There, one of my villagers took me to TLM Hospital, Barabanki, where I was diagnosed as having leprosy. I was put on MDT and other medications. After taking medicines for four months, and with the help of physiotherapy, I started feeling better. My left hand regained some of its strength. I wanted to get back to work and thought of makingsamosas, which I liked most. But I was advised to be careful in handling hot objects, because I may develop blisters which can lead to ulcers. But making samosas is the only work I know. The counsellor at TLM Hospital, Barabanki advised me to take someone's help in making samosas. So I took my chachu's (Father's younger brother) help. My samosas turned out well, and so I started a small business with other eatables in my village. My samosas and other snacks became so famous, everyone in the village called me to help them in cooking during household functions. Now my business is growing, and one of my customers wants to take me for catering service to Chennai where I need to take another 20 others along with me to help me in cooking.
I will be away for four months in Chennai, and so need four months' medicine. Now please give me medicines for four months. I
will come and meet you after four months, and I assure you I will not develop any blisters as I am practising
self-care techniques. My hands will be safe."
He came back to me after a while with a handful of medicines. He promised me, "One day I will make tasty samosas with my own han
ds and feed you."
While he left, seeing his courage and positivity, I told myself, leprosy doesn't have to be the end of the road!