"Nursing is not just a job, it's a calling and ministry"
"Nursing is not just a job, it's a calling and ministry"
Ashish Lawrence's nursing training at the School of Nursing, attached to Burrows Memorial Christian Hospital in Assam, run by Emmanuel Hospital Association has helped him excel as a nurse. But his belief that nursing is not just a job, it's a calling and ministry – he imbibed from his parents.Both his parents have a paramedical background. His father, Late Nirmal Lawrence worked in the hospital run by Emmanuel Hospital Association, in Utraula, Balrampur, Uttar Pradesh, and his mother, Maya Lawrence, is working in Prem Sewa Hospital, Utraula.
"I've grown up seeing the commitment and compassionate care of my parents for patients from the poor and the marginalised communities. Utraula has a high prevalence of leprosy and many leprosy patients used to visit the hospital for treatment. My father was a PMW (Paramedical Worker) and he had to attend to a lot of leprosy patients. The way he treated leprosy patients who were abhorred by society touched my heart. My mother is an MPHW (Multi-Purpose Health Worker). She is a living example of kindness. Their love and compassion for leprosy patients and patients from other disadvantaged communities made me to think about the purpose of my life, as I grew up. I knew my calling was to become a nurse," says Ashish.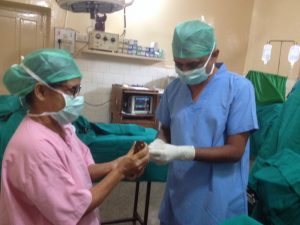 Ashish Lawrence in the operating room at TLM Faizabad Hospital
Ashish knew about the humane treatment and rehabilitation being provided to leprosy patients by TLM hospitals and he was touched by it. That's why when he came to know about the vacancy for a nurse at TLM Faizabad Hospital, he applied for the job. He joined the hospital in 2007 as a nurse and operating room technician. Ashish is married to Ekta, who works with him in the same hospital. Their home is an abode of joy, with their two sons – 9-year-old Enosh and 6-year-old Adi – making it heavenly."The most exciting part of my service is my contribution as a nurse during reconstructive surgeries and camps. I see children, youth and elderly people visiting our hospital with leprosy-related deformities in eyes, hands and feet. They come without any hope, but when they return, they have the confidence to face the world and live with dignity. As a nurse, I feel honoured to be a part of the story of change in the lives of people affected by leprosy visiting our hospital," says a grateful Ashish.
36-year-old Ashish is also a core team member for the disaster management team at the hospital. He has been trained to handle a crisis, whenever it happens. He says, "As a nurse, this role is very crucial, but they are not in our education. TLM gives us the opportunity to learn and practise, challenge our limits and expand our horizon."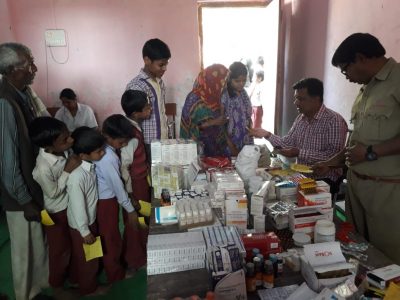 Ashish at a medical camp organised by the hospital