Munia Devi has a new family now – TLM Purulia Hospital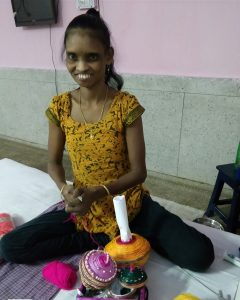 Munia Devi, with the items she crafted
Every time a train passed, Munia Devi shuddered. The brute locomotives brought her heart to her mouth every time they pounded through the railway station. Lying on the cold cement bench, she remembered the days when she lived with her parents. And that brought tears to her eyes.
26-year-old Munia Devi who belongs to West Singhbhum district of Jharkhand district was affected by leprosy when she was a child. She lost her mother, also affected by leprosy, four years ago, and her father soon after. The death of her parents was a huge blow to her. Left alone, Munia Devi thought life was not worth living. Before long, her uncle came to her rescue and took her to his house. But he soon felt she would become a burden to him and so decided to get rid of her. He plotted to kill her and throw her body in the nearby woods. Sensing danger, Munia Devi ran away from his house and came to Chakradharpur Railway Station but didn't know where to go. The railway station became her only refuge.
The passengers who came to Chakradharpur Railway Station were busy; no one had time for Munia Devi lying on the frigid cement bench on the railway platform, with deformed hands and feet and ulcerating wounds. But someone took pity on her and took her to TLM Purulia Hospital (in West Bengal). The hospital gave her prompt medical care and treated her ulcer. As part of rehabilitating her, the hospital trained her in knitting and embroidery work.
Munia Devi does not have a home to return to and the hospital has become her home and the hospital staff is now her family. A transformed person, she spends her time knitting and doing embroidery work, and counsels other leprosy patients to give them hope.