Moulding children affected by leprosy into leaders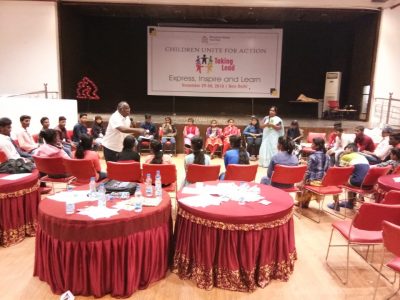 Mr Joseph Rathinam, National Coordinator for Children's Parliament facilitating a session
NEW DELHI: The Leprosy Mission Trust India's (TLMTI) Children Unite for Action (CUFA) project conducted a training workshop for children affected by leprosy supported by the project with education scholarship, in New Delhi, on November 29-30, to mould them into leaders.
A total of 33 children and 10 community volunteers from Bihar, Chhattisgarh, Maharashtra and West Bengal took part in the workshop.
The objective of the workshop was to train and motivate children in taking active leadership roles in their community and to advocate for their rights.
Ms SwarnaLakshmi, a young leader from Chennai who represented India in the UN Youth Parliament; Ms Logammal, State Coordinator for Children's Parliament; Mr Joseph Rathinam, National Coordinator for Children's Parliament; and Ms Geeta Chaturvedi, Trainer and Evaluator facilitated the workshop.
Dr Mary Verghese, Executive Director, TLMTI, discussed the problems the children faced in their schools and communities because of the stigma associated with leprosy and encouraged them to put all efforts to overcome the stigma and discrimination to realise their full potential as they are the hope of the future.
More photographs of the workshop here: http://bit.ly/2Q9QH3H