Meet Pankaj Kumar Srivastava, a champion for a leprosy-free India
Meet Pankaj Kumar Srivastava, a champion for a leprosy-free India
15-year-old Pankaj would often look at his right foot and ask himself why his ulcer did not heal. He has seen many doctors in his native village in Allahabad, Uttar Pradesh. Their ointments and antibiotics did not work, rather his ulcer got worse. He often sat by himself as he could not go out and play.
"Because of the ulcer and the pungent smell, my friends refused to sit near me. My skin turned dark, my hand and foot had lost sensation, my fingers clawed, and I could not close my eyes properly. It was a nightmare," says Pankaj Kumar Srivastava. Unable to bear the burden of the disease and the behaviour of his friends, he dropped out of school. He withdrew from society, retired into his shell and became a recluse. But Pankaj's desire to study made him enrol for a distance learning programme.
Pankaj's father took him to TLM Naini Hospital in Uttar Pradesh, where the physician diagnosed him with leprosy. There, he underwent three reconstructive surgeries to correct his claw hand and lagophthalmos (the inability to close the eyelids completely). After staying in the hospital for seven months, Pankaj was discharged but had to visit the hospital ofttimes for treatment of his ulcer.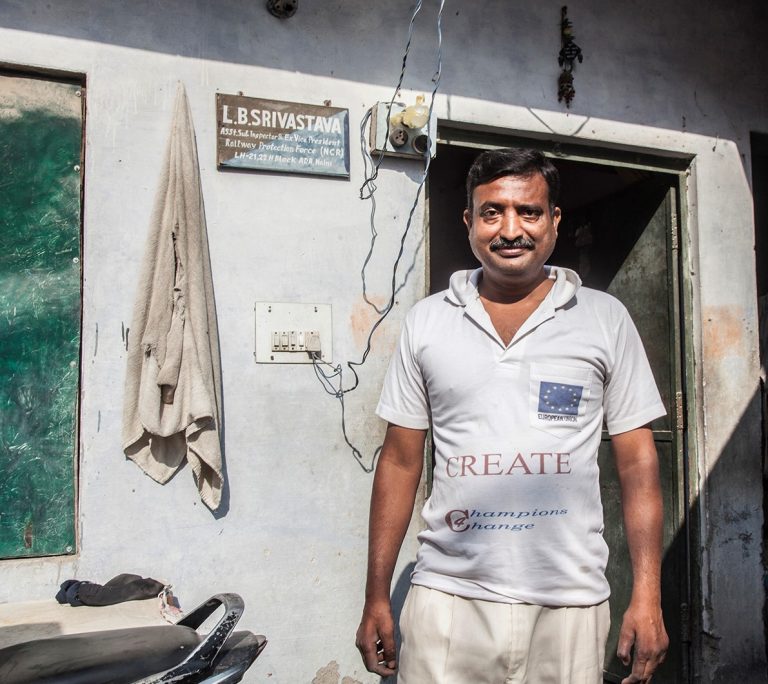 In 2016, while he was in the hospital, Pankaj met the project staff of The Leprosy Mission Trust India's CREATE (CSOs for Resource Mobilisation, Empowerment, Advocacy, Training and Employment) project. The project staff encouraged him to take part in the capacity building programmes of the project. Pankaj happily agreed. "I've seen people abandoning their elderly parents affected by leprosy at the hospital gate. I've also seen people refusing to accept the dead bodies of their family members affected by leprosy. I wanted to change people's attitude towards people affected by the disease," says Pankaj.
He learned many things through the project, such as forming and managing community-based organisations (CBOs), human rights and redressal mechanisms for rights violations, advocacy, and government social welfare schemes. He also received an advocacy toolkit for his future use. The project meetings changed his life. He developed a deep desire to champion efforts to end leprosy and the stigma and discrimination associated with the disease. He encouraged patients who visited the hospital to join the community-based organisation of people affected by leprosy he wanted to start.
In February 2017, Pankaj formed a CBO of people affected by leprosy with 12 members. With his awareness-raising initiatives, more people joined the CBO, with the membership growing to 35. In July 2017, his ulcer became malignant. Doctors tried to save his foot, but eventually, they had to amputate his right leg. Pankaj now uses an artificial limb, but he is busy running around supporting people affected by leprosy and helping them access government social welfare schemes, such as pension, healthcare, housing, education, skill development, and employment.
CREATE project has provided Pankaj with many opportunities to grow as a champion. He attended many conferences across the country where he shared his experiences with leprosy and how he overcame the challenges posed by the disease.
Pankaj's eagerness to learn made him again enrol for distance learning programmes. A graduate now, he is busy working for his community. "I don't hide that I am a person affected by leprosy. I've suffered much because of leprosy. I share my story to encourage others like me not to feel ashamed about the disease and to tell the world there is no need to stigmatise a person affected by leprosy. I've resolved to work for ending discrimination against people affected by leprosy," he said, wiping the sweat off his face.