Mamta: A resolve to break barriers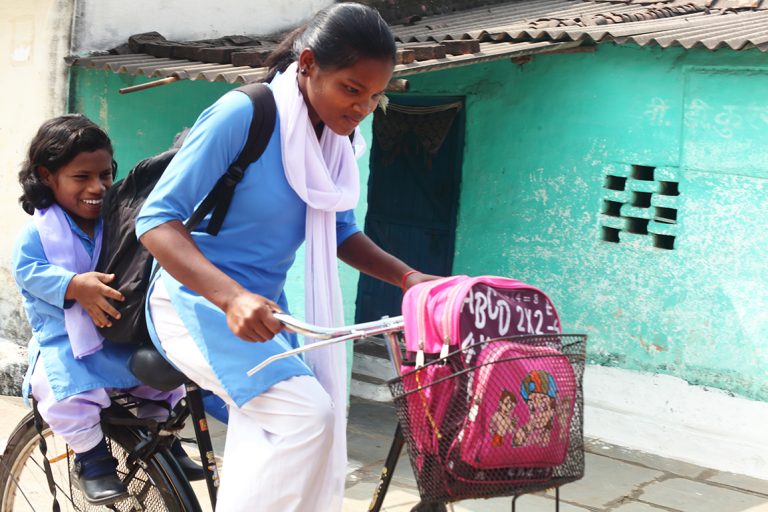 Sixteen-year-old Mamta lives in Ashadeep leprosy colony, in Durg, Chhattisgarh, with her parents. Her father, Mr Ramadin Patel, was affected by leprosy and is now completely cured. He and his wife work as labourers in a construction site. Mamta has two brothers – one is studying and other discontinued education to financially support his family.
The atmosphere at her home gets very tough on weekends where both her parents addicted to alcohol make life a living hell for Mamta and her brothers. Amidst the regular fights and abuse, she tries to concentrate on her studies. But, last year, she failed in her 10th Board examination. She is reappearing for the exam this year. She is also attending tailoring classes being organised by an NGO in her colony.
Sixteen-year-old Kajal, a girl with dwarfism, has been a regular to Ashadeep leprosy colony. Every afternoon, her friend Mamta from Ashadeep takes her to school on her bicycle. Kajal and Mamta have been friends for over 10 years. Kajal does face prejudices due to her disability. Few people even said that she should be sent to circus! Young children hit her when she passes by. Mamta is very protective about her best friend and always stands by her.  Kajal can relate to Mamta, who like many others, still faces the stigma of being brought up in a leprosy colony. Though she stays in a neighbouring locality, for Kajal, Ashadeep is like her second home where she also goes to learn tailoring.
The Leprosy Mission Trust India (TLMTI) works in Ashadeep colony and provides scholarship to children affected by leprosy or belonging to families affected by leprosy, under its Catch Them Young (CTY) project. There are 90 households in the colony and 22 children are benefitting from the programme, Mamta being one of them.
Mamta feels Kajal is an integral part of her everyday life and they enjoy the time spent together. On their way to JP Nagar Government School, in Bhilai, Chhattisgarh – a couple of minutes ride – they talk mostly about homework and teachers. While Kajal wants to be a teacher, Mamta aspires to be a doctor. She is very determined to complete her education and carve out a future for herself. In small ways, she is already taking a lead towards building an inclusive society.  She spreads general awareness about leprosy and the need to treat people affected by leprosy with dignity.