Leprosy is no more a ground for divorce in India!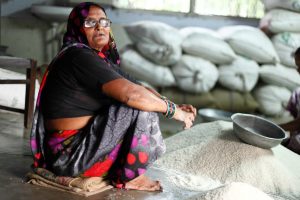 NEW DELHI: Here's is encouraging news in the fight for reinstating human dignity and equality for people affected by leprosy in India!
Article 1 of the Universal Declaration of Human Rights says, "All human beings are born free and equal in dignity and rights," nevertheless, there remains a plethora of discriminatory laws and practices in India that make people affected by leprosy unequal citizens of the country – we have identified 119 laws and provisions in India discriminating against them.
The Leprosy Mission Trust India (TLMTI) and various other stakeholders are working to get these laws repealed so that 'equality in dignity and rights' become a reality for people affected by leprosy.
TLMTI worked with the Law Commission of India to get these laws repealed, and as a result, the Commission, in April 2015, had submitted a report (Report 256) along with a draft bill (Eliminating Discrimination Against People Affected by Leprosy [EDPAL] Bill 2015) to end discrimination against people affected by leprosy, to the Government of India.
Further, Vidhi Centre for Legal Policy, an independent legal policy advisory group had filed a Public Interest Litigation in the Supreme Court of India for repealing laws discriminating against people affected by leprosy.
The encouraging news is that at a cabinet meeting yesterday, the government has cleared The Personal Laws (Amendment), Bill, 2018 which seeks to amend the Divorce Act, 1869; the Dissolution of Muslim Marriages Act, 1939; the Hindu Marriage Act, 1955;   the Special Marriage Act, 1954; and the Hindu Adoptions and Maintenance Act, 1956 to strike down leprosy as a ground for seeking divorce.
Union Minister for Law and Justice, Shri Ravi Shankar Prasad, while addressing a press conference after the cabinet meeting, said that the decision was being taken to bring 'dignity' in the lives of people affected by leprosy in India.
It is pertinent to mention here that India has ratified UN Resolution A/HRC/15/30 which spells out principles and guidelines for the elimination of discrimination against persons affected by leprosy and their family members.
By the present decision, the Government of India has taken a positive step that recognises people affected by leprosy as equal citizens of the country.