Leprosy cannot stop Seema; she climbs higher up the academic ladder
Leprosy cannot stop Seema; she climbs higher up the academic ladder
Sandra Vischer, the American writer once said, "The woman who is my best friend, my teacher, my everything: Mom."
Seema also would say the same thing about her mother. Seema belongs to a shepherd community in Amravati district of Maharashtra. Amravati is endowed with grasslands and meadows, a veritable haven for grazing. Even as a child, Seema used to accompany her mother when she took their cattle for grazing. In the warm afternoons, they used to lie down under the lush canopy of ancient trees near the edge of the forest while her mother sang lullabies, the ambience of which she cherishes even now.
One day, when Seema was nine, her mother noticed some white patches on her thigh, cheek and waist. While helping her mother in the kitchen, Seema found she didn't feel pain even when she touched hot pans. She had lost sensation on her right hand.
Seema's mother took her to the government hospital in their village and the medical officer there diagnosed her with leprosy. He put her on a 12-month course of multidrug therapy (MDT). However, he didn't tell Seema or her mother the diagnosis, lest they got scared. Though Seema was cured of leprosy, her right hand clawed because of nerve damage.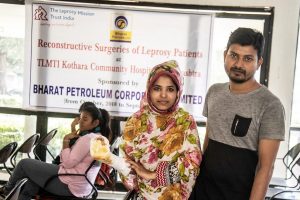 Seema, with her husband Vicky, at TLM Kothara Hospital, after the reconstructive surgery

Several years later, while studying in Class 12, Seema met an NGO worker and realised that she was affected by leprosy. She was disturbed and depressed.
Recalling her childhood, Seema says, "Because of the stigma associated with leprosy, my friends avoided me. It stressed me out way too much. I had difficulty continuing with my studies. But I decided not to give up. I wanted to make the most out of my life."
In college, Seema had few friends. A hardworking and bright student, Seema stayed focussed on studies – she wanted to prove a point, that people affected by leprosy can lead normal lives like anyone else and realise their dreams. Further, she completed her B. Com, MA (Economics) and M. Com. Now, she is pursuing her PhD in Management. She aspires to become a college professor.
While in college, Seema met Vicky and they fell in love with each other. Vicky knew Seema for eight years. He knew about Seema's disease and understood there is nothing to fear about leprosy. "Because of the general lack of knowledge about leprosy, people have many misconceptions about the disease and that's why leprosy is a stigmatised disease. I understood leprosy is curable and a person once cured can live like anyone else. We have known each for a long time and this could have happened to me instead of her. I did not want to lose her," says Vicky, with a sparkle of love in his eyes. And they got married last year – proving that the power of love can defeat the prejudice against leprosy!
Seema was thrilled when she came to know that The Leprosy Mission Trust India was conducting a reconstructive surgery camp in its hospital in Kothara, Maharashtra. She knew that reconstructive surgery would correct the deformity in her hand and make her disability-free. She got herself registered for the reconstructive surgery and underwent the surgery in March this year. Vicky was with her all along supporting her in every way he could. And that further strengthened Seema.