It doesn't take much time for fortunes to change
It doesn't take much time for fortunes to change
Meet Akash Rambhau Devlkar, a 22-year-old young man from Nandgaon, in Wardha district of Maharashtra.
Akash's father was affected by leprosy and because of delayed diagnosis of the disease, he had a deformity. Because of the deformity, he could not work, and this has put the family's day-to-day living in jeopardy. Akash wanted to make something of his life and give a good life to his parents.
When he came to know about The Leprosy Mission Trust India's vocational training centre in Nashik, Maharashtra, he seized the opportunity and enrolled for a course in electrician training. His brother supported him in his studies. And Akash graduated in 2017.
After graduating, Akash worked in Pune for a few months. When a better opportunity came knocking, he jumped at it. Presently, Akash is working in Mumbai earning Rs 14,000 per month. He is living in free accommodation arranged by his company.
Akash's long-awaited dream realised when he sent his first salary to his parents. The money sent by Akash every month changed the socioeconomic status of his family. Last year, he fulfilled his commitment to other youngsters like him by providing placement support to four other students.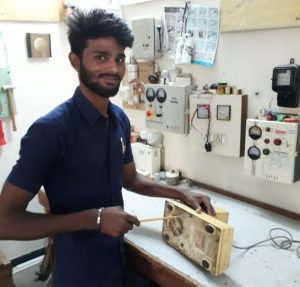 Akash undergoing training at the vocational training centre