Here's is an amazing woman who challenged all odds
Here's is an amazing woman who challenged all odds
Today is International Women's Day. It's a day to celebrate women – all women – for who they are.
Here, we celebrate a woman – an amazing woman – who is an inspiration to many. Any amount of talking about her will never suffice for the courage she's shown throughout her life. Diagnosed with leprosy at a young age, struggling through her youth, today, she is a deputy program manager working with people with disabilities in Maharashtra.
She stands tall with her husband, Mr Suresh Dhondge, and the love of her three beautiful daughters.
She says, "I got a new wing to fly to realise my dreams. Now, I have the confidence to face life as it is."
Mangla, we salute you on this International Women's Day!
Want to read more about Mangla? Read it here: http://bit.ly/2sZINvr.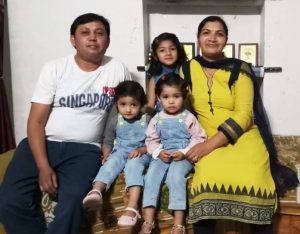 Mangla, with her family