Going solar for providing better healthcare services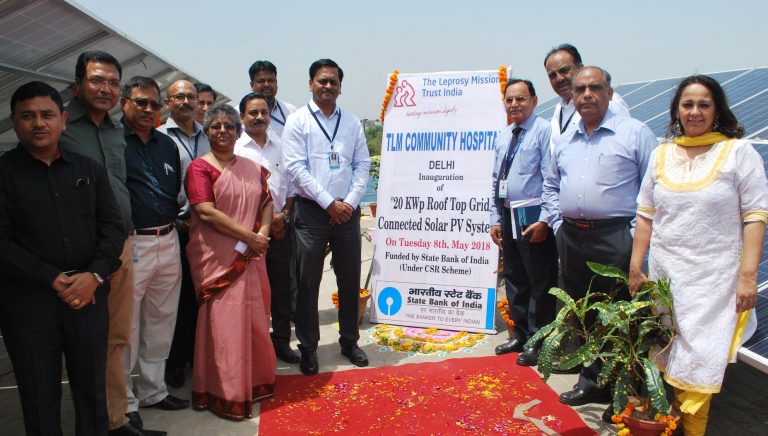 NEW DELHI: What happens when an Indian multinational, public sector banking and financial services company joins hands with India's oldest and largest leprosy-focused organisation?
It brings sunshine into the lives of people affected by leprosy, undoubtedly!
This is precisely what has happened when State Bank of India (SBI), India's largest bank, donated a 20 kWp grid-connected rooftop solar PV system to The Leprosy Mission Trust India's (TLMTI) Shahdara Hospital, in New Delhi, under its CSR (corporate social responsibility) initiative.
The hospital, which has a large OPD, inpatient wards, a laboratory, and a World Health Organization-recognised molecular biology research laboratory (Stanley Browne Research Laboratory) spends a substantial amount on its electricity bills every month to maintain good services. The hospital will use the electricity costs saved through solar energy to provide free services to leprosy patients – the services include ulcer care and rehabilitative surgeries requiring hospital admissions for long periods, medicines, ECG services, X-ray services, MCR (micro-cellular rubber) protective footwear, artificial limbs, food, etc.
In a function organised at the hospital on May 8, Mr Prabudh Kumar, Regional Manager, Region 3 of State Bank of India inaugurated the solar PV system, in the presence of Mr Rajiv Pant, Chief Manager, Credit, SBI, Mr M. Vishwanathan, Chief Manager, CRM, SBI, Mr Kochar, Dy Manager, SBI, Regional Office, several branch managers of the Bank, from East Delhi, Dr Mary Verghese, Executive Director, TLMTI, and TLMTI staff.
Mr Prabudh Kumar, in his inaugural address, said it was wonderful to contribute towards making the life of people affected by leprosy better. After seeing the work of the hospital, he said, he was deeply moved by the plight of people affected by leprosy and TLMTI's exemplary work with them.
SBI has a long association with TLMTI – it goes back to 2012. During this period SBI has donated solar water heater, ambulances (7 vehicles), mobile outreach clinic, wheelchairs, and biofeedback machine to 11 TLMTI hospitals.