Gaganand goes back to being his playful happy self
Gaganand goes back to being his playful happy self
For the 13-year-old Gaganand, life was all about playing with friends. His days were filled with frolic and loads of fun. He loved playing cricket with his friends. But one day, two years ago, all this came to an abrupt end.
Gaganand was studying in Class 3 at that time. His mother, Savita Raju Rathore, noticed a discoloured patch on his body. As there was no sensation on the patch, she thought something was amiss and took him to the local doctor, who diagnosed him with leprosy.
Savita belongs to a conservative and backward community in Timburkhede village in Buldhana district of Maharashtra. She knows leprosy is an overly stigmatised disease in her community as people harboured many misconceptions about the disease. She had witnessed people shunning those affected by leprosy and feared the same for her son. If others got to know Gaganand is affected by leprosy, it would endanger the family's social standing and they would be socially boycotted. For this reason, Savita kept her son's leprosy a secret. She asked her son not to visit his friends, mingle with them or play with them.
On that day Gaganand's gaiety came to an abrupt end. He turned into an introverted loner.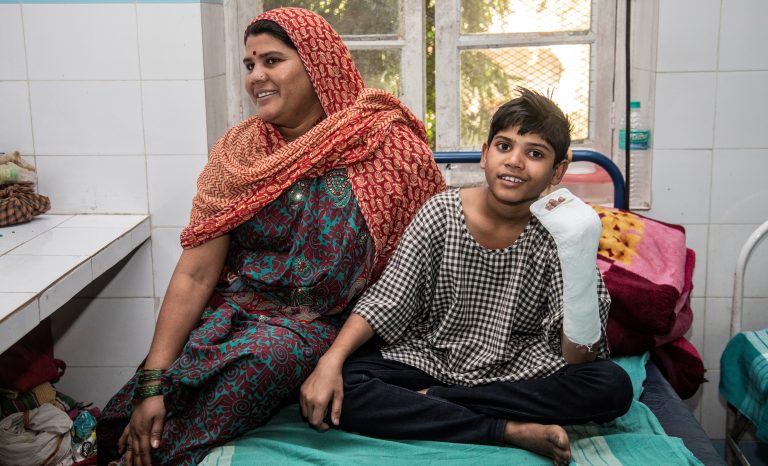 Gaganand, with his mother Savita, at TLM Kothara Hospital, after undergoing reconstructive surgery to correct his claw hand

Savita continued treatment of her son discreetly, but after a year of medication, Gaganand lost sensation in his hand and feet. Also, fingers of his left hand clawed (These are complications of leprosy. They happen when the bacterium that causes the disease attacks nerves in the legs and hands). The family could no longer hide his leprosy, and their worst fear came true – they faced alienation in the community. Because of his disability, Gaganand was forced to drop out of school.
"People stopped visiting our house. They did not want to be associated with us. My son was not allowed to play with other children. I was worried about him and my three daughters. The eldest would be getting married soon," says a visibly shaken Savita.
Fortunately for the family, they got to know about the free reconstructive surgery camp being conducted by The Leprosy Mission Trust India at its hospital in Kothara, Maharashtra – barely 150 km from their village. Savita was hopeful. She had heard how through reconstructive surgery, leprosy-related deformities in hands, legs, and eyes could be corrected and patients could lead a normal life.
With great hope, Savita took her son to Kothara for the reconstructive surgery. He was admitted in the hospital and was operated upon. An inpatient in the hospital with a postoperative PoP cast for claw hand correction, Gaganand is counting days when he will be discharged and can go back to school.
With his amused countenance and contagious smile, Gaganand has become the favourite of the hospital staff. His zingy demeanour brings hope to Savita. She knows her son will be free from his disability and will be able to pursue his studies and make the most out of his life.