Electoral literacy for effective electoral engagement, participation, and making informed choices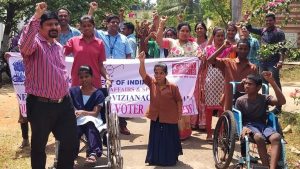 VIZIANAGARAM (ANDHRA PRADESH): With the general election to constitute the 17th Lok Sabha just around the corner, TLM Vizianagaram Vocational Training Centre (VTC), in Andhra Pradesh is making efforts to extend electoral literacy to students undergoing skill training in the VTC.
For this, the VTC, in partnership with the Ministry of Youth Affairs, Government of India, Indian Red Cross Society, and Nehru Yuva Kendara, organised a workshop at the VTC auditorium, on March 29.
The resource persons, Dr N.V.S. Surya Naryana, Mr Vikram Aditya, and Mrs Hima Bindu sensitised over 100 students to their electoral rights and talked to them about the electoral process, on the how, what and where of registration and voting.