Diwali lighting up the lives of these SHG members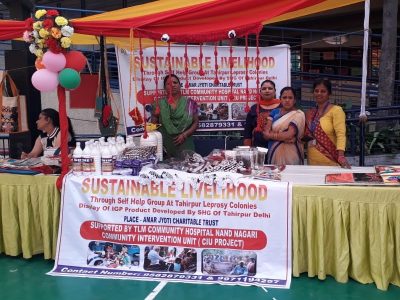 SHAHDARA (NEW DELHI):  The Community Intervention Unit (CIU) of The Leprosy Mission Trust India's Shahdara Hospital in New Delhi had started two Self-Help Groups (SHGs) – Uthan Self-Help Group in Municipal Corporation of Delhi and Vandana Self-Help Group in Sarvodaya Kusht Ashram, both in Tahirpur colony – where people affected by leprosy live, in October 2016. These SHGs manufacture products, such as Phenyl, sanitary pads, vaseline jelly, wall hangings, and agarbatti (incense sticks) to meet livelihood needs. They sell the products in the nearby shops and in stalls organised by NGOs.
Members of these SHGs – all persons affected by leprosy – put up a stall on November 2, in a local Diwali mela for selling their products. They did brisk business and earned a handsome profit.