Detecting leprosy cases through community medical camp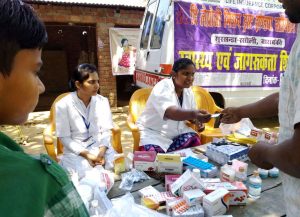 BARABANKI (UTTAR PRADESH): The Leprosy Mission Trust India's (TLMTI) Barabanki Hospital conducted a community medical camp in Trivedi Ganj block of Barabanki district, Uttar Pradesh, on May 10.
Nursing students of PTS Nursing College, Lucknow, supported TLMTI's medical staff (comprising medical doctors, nurses, physiotherapists) in conducting the camp, where over 200 people from many villages in Barabanki district were screened.
Through the camp, the hospital made efforts to spread awareness about leprosy. Sapna, the mascot of the Government of India's National Leprosy Eradication Programme (NLEP) was the main attraction of the leprosy awareness-raising programme
Three new leprosy cases were detected through the camp. Patients diagnosed with other diseases were referred to TLM Barabanki Hospital where they will be given free treatment.