Caring for their feet so that they can reach home safe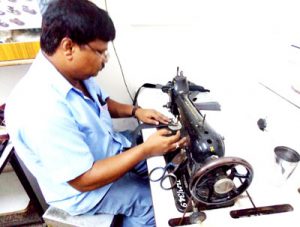 Indian Railways' Toofan Express chugged in to New Delhi Railway Station on a pleasant afternoon in August, 1983. 18-year-old Luska Karmakar got ready to alight from the train. He had many apprehensions about the big city of Delhi. It was his first journey outside his home district Purulia, in West Bengal. He once again checked his shirt pocket to make sure that the letter which he read a hundred times during his 24-hour travel from Purulia to New Delhi was safe with him. That letter gave him courage; it gave him a sense of purpose. It was his appointment letter as 'Shoe Technician' in TLM Community Hospital, Shahdara, New Delhi.
Prior to his appointment at TLM Shahdara Hospital, Luska had undergone six months' training at TLM Purulia Hospital in producing micro-cellular rubber (MCR) protective footwear for leprosy patients. Leprosy patients who have anaesthetic feet need to protect their feet from injuries. Otherwise, they can develop secondary impairments, like ulcers, and in worst cases, amputation. The soft MCR insoles protect their feet from injuries.
Luska joined TLM Shahdara Hospital on 1st September, 1983. He lived in government-owned Manav Seva Leprosy Colony, near the hospital. He owes his life to TLM. Back in Purulia, his father was affected with leprosy and took treatment at TLM Purulia Hospital. TLM trained Luska to become a Shoe Technician. He married Barnabasi and raised his family while working at TLM Shahdara Hospital. His son, Sushant (20 years) is doing his first year Nursing course. His second son, Srikant (15 years) is studying in 9th standard. Theirs is a happy family. Hardworking Luska takes care of the financial needs of the family, while his wife manages the home front. Rice-eaters from West Bengal, Luska family loves fish delicacies, like Ilish Maach Bhaja, Rui Maach'er Kaliya, Mourola Maach'er Chatni, Muri Ghonto'r Dal and other fish preparations, with rice, prepared by his wife.
In his 32 years service for people affected by leprosy, he has learnt much about the need for the right MCR footwear for leprosy patients. People affected with leprosy having insensitive feet are not keen on using MCR footwear due to their lack of awareness of the consequences of not using them. This results in ulcers and deformities leading to loss of productivity. Visible deformity compounds the existing stigma in leprosy. Luska is particular in making good quality, durable footwear so that the patients do not develop ulcers on their anaesthetic feet.
TLM Shahdara Hospital is recognised by the Government of India as the centre for providing MCR footwear to leprosy patients under its 'Disability Prevention & Medical Rehabilitation' (DPMR) programme. Luska has visited many leprosy colonies in Delhi, Himachal Pradesh, Punjab, Uttarakhand and Uttar Pradesh, along with the medical team from the hospital to take foot measurements as part of DPMR requirement of making individual assessment for manufacturing personalised footwear. Once back in his workshop at the hospital, Luska swings into action. His deft hands and passion for his craft bring out the best quality footwear. Every year, the hospital supplies around 1,500 pairs of footwear to the government. For leprosy patients who visit the hospital without deformities, he supplies regular footwear with MCR insoles. But to those with deformities due to ulcer, he takes measurement of their feet and makes special footwear for them.
TLMTI has an MCR manufacturing unit in Vizianagaram, Andhra Pradesh, where natural rubber compound is processed, extruded and vulcanised to manufacture MCR sheets. Every year, 16 tons of MCR sheets are manufactured in this unit, which are used to produce 32,000 insoles. This unit has supplied more than a million pairs of MCR insoles so far to people affected by leprosy. At present, TLMTI uses 50% of its annual MCR production, and the rest is used by other NGOs and orthotic centres. TLM Hospitals in Kolkata, Naini, Purulia and Salur have facilities for making MCR footwear. Shoe Technicians, like Luska, use these sheets to make insoles for protective footwear. In 2014, TLMTI supplied 17,862 pairs of MCR footwear to people affected by leprosy.
Luska's passion for work makes the footwear manufactured by him a favourite of leprosy patients. The hospital supplies around 700 pairs of footwear every year to the patients who visit the hospital. Stigma is so deep-rooted in the society that a person who is seen wearing conventional MCR footwear faces discrimination. Luska said, "Because of conventional look of this footwear, they face discrimination wherever they go. Sometimes they are not allowed to travel in public transport." To make the footwear more appealing and acceptable, TLM outsources manufacturing to an industrial unit which manufactures footwear with contemporary designs. This footwear is in great demand. TLM supplies the MCR insoles and maintains strict quality control checks.
48-year-old Luska is always in great demand. He said, "On days when I am not on duty, there is a big hungama (noisy disturbance) in the shoe section. Everyone needs my footwear." Even before joining TLM, in his village in Purulia, he has seen many leprosy patients with ulcers because they didn't protect their anaesthetic feet. Many of them had their legs amputated. His 32 years as a Shoe Technician has taught him the importance of protecting anaesthetic feet to avoid further complications, like ulcers. Luska tells the patients who come to him the importance of protecting their feet. He has a special concern for leprosy patients as his father was affected with leprosy. He said, "I see my father in every leprosy patient who comes for footwear", and added, "I know my life's mission is to help leprosy patients. The stigma is high. Functional and fashionable footwear reduce the risk of ulcers and stigma."
Sitting alone in his room in the hospital, he single-mindedly goes on practising his craft. The silence is punctured now and then by the rhythmic, musical kat, kat sound of the pedal-operated heavy-duty sewing machine for stitching straps, and the whir of the buffing grinder. Footwear at different stages of production strewn around the room reminded me of the unfinished work of preventing disabilities due to leprosy.
Note: When Luska joined, the hospital was known as 'The Leprosy Mission Hospital.' The name was changed to TLM Community Hospital in the year 2008.