Balu's journey to a land flowing with milk and honey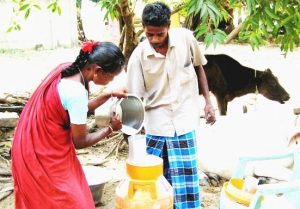 Tamil Nadu government had established 'State Industries Promotion Corporation of Tamil Nadu Ltd' (SIPCOT) way back in 1971 to promote industrial growth in the state. SIPCOT has so far developed industrial complexes in 12 districts, Cuddalore being one among them. But Cuddalore soon became the victim of mindless industrialisation. Industrial effluents from the chemical factories polluted groundwater jeopardising the agricultural prospects in the district.
45-year-old Balu belongs to Peria Karaikadu village, one of the worst-affected villages due to industrial pollution in Cuddalore. He has two acres of agricultural land which he cultivated and lived comfortably. But gradually his land became uncultivatable. He incurred huge debt. Balu found himself in a tight spot. He used to stare out of his window and mourned for his land which was his only source of income. Left with no choice, he leased his land to the local landlord for a few thousands of rupees and worked as a daily wage labourer in the nearby town. During that time Balu was diagnosed with leprosy. But the diagnosis came too late – he had developed claw hands, a condition that causes curved or bent fingers. Balu could not work due to the deformity of his hands. After the only source of income dried up, Balu's family was pushed into absolute poverty.
Balu was not ready to give up. He wanted to venture in to some enterprise which would help him take care of his family. He bought a cow intending to sell its milk. But he found it difficult to milk the cow because of the deformity of his hands. He hired the local milkman to milk his cow. The milkman would milk the cow and buy the milk paying Balu a meagre price. Balu's economic condition further worsened. He had to withdraw his children from school as he couldn't pay their fees. To add to his agony, the social stigma attached to leprosy made him an alien in his own community. Financial burden and social isolation – they were more than what Balu could bear. He had reached the end of his tether!
About this time TLM's 'Securing Opportunities towards Advancing Revenue' (SOAR) project started its intervention in Peria Karaikadu village. SOAR project works in Cuddalore district of Tamil Nadu under the leadership of Mr David Jaganathan and aims to improve the quality of life of people affected by leprosy and people with other disabilities. The project does this by supporting them to become successful entrepreneurs. The project conducts Entrepreneurship Awareness Programmes and Entrepreneurship Development Programmes through which it trains people in the essentials of conceiving, planning and starting successful enterprises. In these programmes, the participants get opportunities to meet experts from the fields of community development, animal husbandry, dairy development, banking and Insurance and get technical advice on running a successful business.
The project team met Balu and invited him to attend such programmes the project was planning to conduct in Vadalur, in partnership with Indian Bank, a state-owned financial services company, under its Corporate Social Responsibility (CSR) initiative. After attending the programme, Balu expressed his wish to start a 'Milk Collection Unit' where he would buy milk from individual households and supply to processing units in Cuddalore.
The project team was convinced of Balu's entrepreneurial potential and helped him write a business plan, and together they worked out the details. The project then organised a meeting and invited everyone in the village who owned milch animals to create functional linkage so that Balu can start his business. After the struggles in his life, Balu realised his dream of becoming an entrepreneur. He supplies 80 litres of milk daily to the milk processing units – 70 litres which he buys from the villagers and 10 litres from his own cow – at a handsome profit. He sells milk to the villagers also. His reputation as an honest entrepreneur grew and so his income. Balu has good standing in the society now. Stigma of leprosy has become a thing of the past. He has paid his debts and redeemed his land given on lease. His children are back in school!
The entrepreneur in Balu is ambitious as ever. He wants to expand his business and plans to start goat farming. Balu said: 'The Entrepreneurship Development Programme conducted by TLMTI's SOAR project opened my eyes to the possibility of starting my business. With the support of the project I have gained the skills to manage my business.'