Back to school – A struggle to study that ended well
Back to school – A struggle to study that ended well
It was the school annual gathering. When the Class 6 student recited Multiplication Table 1-40 on the podium in front of a packed audience, it was so quiet one could hear a pin drop. But what followed was something the small boy couldn't understand – thunderous applause followed him while he slowly walked to his seat!
Education could never have been a choice for Sunil Nishad, the bright 12-year-old boy from Karmada village in Baloda Bazaar district, Chhattisgarh. Sunil's father is an alcoholic and his addiction had devastated the family. Food was scarce – a luxury at home, so to speak. Many days, he went to school on an empty stomach, but his determination to study kept him going. A topper in the class, his teachers were all praises for him. Soon, his mother started working as a farm labourer – she had to keep the home fires burning.
As if fate conspired to douse his dream of studying, Sunil was diagnosed with leprosy at that time and his mother took him to TLMTI's hospital in Chandkhuri, travelling around 130 km in a rickety bus on a tumultuous road.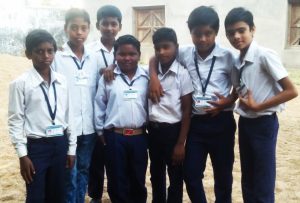 Sunil (fourth from left) with his friends
While under treatment for leprosy, Sunil developed lepra reaction and had to be hospitalised quite often. Left with no other choice, he stopped going to school. To take care of her son, Sunil's mother shifted to the hospital.
While in the hospital, The Leprosy Mission Trust India's Children Unite for Action (CUFA) project staff visited Sunil. After many meetings, he opened up and told them how he missed his studies. The grief in his voice rested heavy on the project staff. They understood the desire to study that was consuming him and arranged for his enrolment in Class 6 in the best school in Chandkhuri. The hospital gave his mother a job in the hospital farm (TLM Chandkhuri Hospital has a large farm where vegetables are grown organically for patients' consumption). CUFA project selected Sunil for an education scholarship.
Sunil stays in the hospital and goes to school daily – getting the best treatment and loads of love from the hospital staff and his teachers. They make sure he is comfortable and his studies are not hampered. The project staff help him with his studies by arranging tuitions and counselling him.
A role model for other students, Sunil goes to school with a spring in his step and an aura of joy enveloping him!