Arif Khan: The joy of having something to look forward to
Arif Khan: The joy of having something to look forward to
A Class 10 student in one of the best schools in Meerut, Uttar Pradesh, Arif Khan enjoyed life to the hilt. With many friends in school and in his village, he never had a boring moment in life. At home also, he had a gala time with his parents and siblings – he is part of a large family of 12 members.One summer evening in 2015, Arif's father came home dejected and withdrew to the corner of the room as if he feared his own shadow. After much prodding, he broke the news which no one in the family was prepared to hear – the local doctor diagnosed Arif's father with leprosy. The doctor put him on a 12-month course of multidrug therapy (MDT), the sure-shot cure for leprosy. But the irony is that leprosy can be easily cured while the age-old stigma and discrimination associated with it cannot be cured with a drug! The stigma of leprosy is still rife in communities and it scuppers the very existence of families.
Neighbours stopped visiting Arif's family and they stopped inviting them to family functions. They found it difficult to escape a society that would only ostracise them and condemn them as outcasts. Once popular among his friends, Arif has now become a lonely soul, keeping to himself. Unable to take it anymore, he stopped going to school, putting his future at stake as he was in Class 12.
It was by chance that someone told him about The Leprosy Mission Trust India's vocational training centre (VTC) in Faizabad, Uttar Pradesh.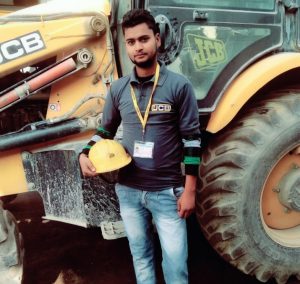 Eager to make the most out of life, Arif visited the VTC and took admission for a 2-year diploma course in diesel mechanics.The VTC is affiliated to the National Council of Vocational Training (NCVT) – a Government of India agency that conducts All India Trade Tests and awards National Trade Certificates – and that made Arif confident that new avenues for a decent job will open for him after he completes the course.
In 2018, Arif passed his NCVT examination. The classroom training and on-the-job training given by the VTC helped him in mastering his subject. He bagged a job with Alliance JCB, the dealer for 35 districts of Central and Eastern Uttar Pradesh of JCB India, the leading earth moving equipment and heavy machinery manufacturing company.
"I get a handsome salary and I am able to support my parents in their old age. I am able to put behind the hardships of the past and look forward to an enriching life. There are enough growth opportunities for me," says Arif, a large grin splitting his face.