An empowered Pushpa Devi creates change in her village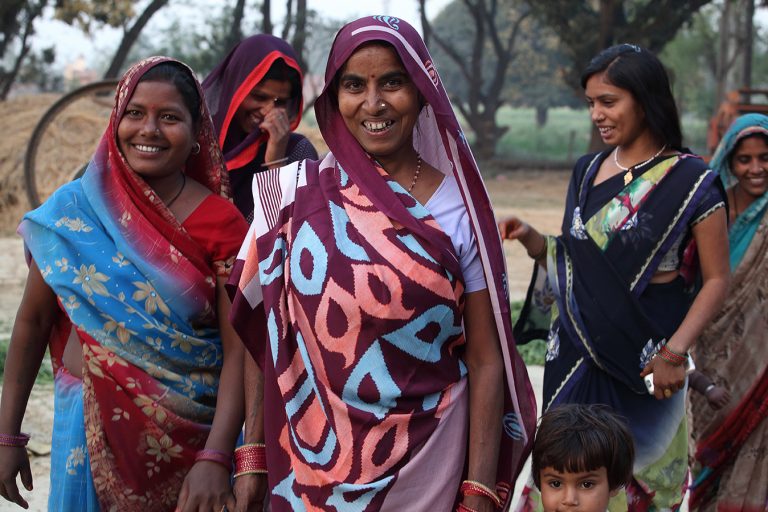 Pushpa Devi (centre) after attending a Gram Sabha meeting
A mother, ward member of the Gram Panchayat and accountant of a self-help group (SHG), 50-year-old Pushpa Devi switches her roles effortlessly.
Pushpa Devi started her education at 41 in an adult literacy class facilitated by The Leprosy Mission Trust of India (TLMTI) under its Women Empowerment project. Sharing her experience, Pushpa Devi says, "As a child, I could not study as girls were not allowed to go to school. Today I can read and write, access information, sign documents and do a mathematical calculation." For two years, she continued her education with her husband's support, who is engaged in farming.
In 2011, with the facilitation of TLMTI, women from her village, Ramnagar in Barabanki district of Uttar Pradesh formed a self-help group (SHG) and started their savings. The SHG holds regular meetings where the group's savings and different issues of the community and their solutions are discussed. TLMTI facilitates the meetings, provides information on various issues, such as health and sanitation, rights and entitlements, gender equality, and domestic violence. Over the years of her association with TLMTI, Pushpa Devi has emerged as a leader and has earned a lot of standing in the community.
TLMTI's WEALTH (Women's Empowerment through Advocacy, Livelihood Training and Health) project encouraged Pushpa Devi to contest Gram Sabha elections and in 2015, she became a ward member of the Gram Sabha. She actively participates in the affairs of the Gram Panchayat.
In 2017, the government-sanctioned new ration cards and many families in her village did not get it. They submitted applications to the Gram Pradhan, but to no avail. In May 2017, Pushpa Devi, along with 12 women advocated for it. As a result, 35 families have been issued ration cards. They also got drains and kuccha roads (made of bricks and mud) constructed in the village. Recently, 14 solar lights were installed in the village.
Pushpa Devi is a strong advocate for women's rights. "Toilets are a necessity for every household. It is difficult for women to go out in the field at odd hours. None of the 76 families living in Ramnagar has functional toilets. Now I'm educating the people here about the need to make our village open defecation-free," she says.