Affordability Universal Design key to enhancing Assistive Technology ecosystem among G20 nations

The side event on 'Promoting Investment, Innovation, and Industry for Assistive Technology in G20 countries and beyond' at the StartUp20 Closing Summit on July 4, set the context for a more focussed discussion on enhancing the AT ecosystem among G20 nations. Jointly organised by the NITI Aayog and the UN in India, the side-event saw a coming together of multiple stakeholders—AT incubators, investors, persons with disabilities and representatives of relevant government departments and multilateral organisations—as they did a kind of a SWOT analysis of the AT sector.
The two panel discussions as a part of the side event saw significant contribution from Dr. Chintan Vaishnav (Mission Director, Atal Innovation Mission, NITI Aayog), Dr. Vinod K. Paul (Member, NITI Aayog), Dr. Rajesh Aggarwal (Secretary, Department of Empowerment of Persons with Disabilities, Ministry of Social Justice & Empowerment), Dr. Cherian Varghese (WHO South-East Asia Regional Office) and Dr. Rajiv Bahl (ICMR). Representatives of the Asian Development Bank, Social Alpha, Prosus Group, ALIMCO, ATscale and other important organisations drew on their experiences to enrich the discourse.

The Leprosy Mission Trust India had an opportunity to attend the event and get a first-hand perspective of different stakeholders on the current ecosystem of AT.
Current ecosystem of Assistive Technology
Assistive Technology is needed for people who are at different stages of their lifecycle.
About 88% of total global need for assistive technology needs is unmet.
The ecosystem of Assistive Technology must be centered around four key principles: Awareness, Accessibility, Availability, and Affordability; not necessarily in that order.
Research on AT
Not enough action research is happening to improve upon existing assistive technology. Research on making AT cost-effective is also lagging.
There is no set protocol on quality assessments of assistive technologies and no clear standards have been set yet. This is where we need to use national institutes such as the National Centre for Assistive Health Technology in IIT-Madras, IIT-Delhi, etc., who can help in verification of results / experiments as they are sitting on a data mine, owing to huge client load.
Expertise
Most experts working in the domain of AT are medical professionals, however, AT has different dimensions: medical, social, universal design, etc. This is why the AT research domain needs more of those people who are exposed to more than one such dimension.
AT start-ups and facilitating technology adoption
Several start-ups are working on assistive technology, but there is a concern that maybe only a few of them will be able to sustain and grow. Why is that so? Most start-ups are able to garner funds to develop prototypes or Minimum Viable Products (MVPs), but they are struggling to get funding support in converting the MVPs into market-ready products.
We need to focus on supporting these start-ups in their market adoption journey because the end users are often not aware of their technologies and also sceptical about trying a new technology. There is a need to facilitate adoption of AT by developing Experience Centres where end users can come and experience the technology, just like they do for electronic gadgets.
ALIMCO (Artificial Limbs Manufacturing Corporation of India), through its centres across the country, has started supporting start-ups by providing them space, and sometimes even funds.
AT integration into Universal Health Coverage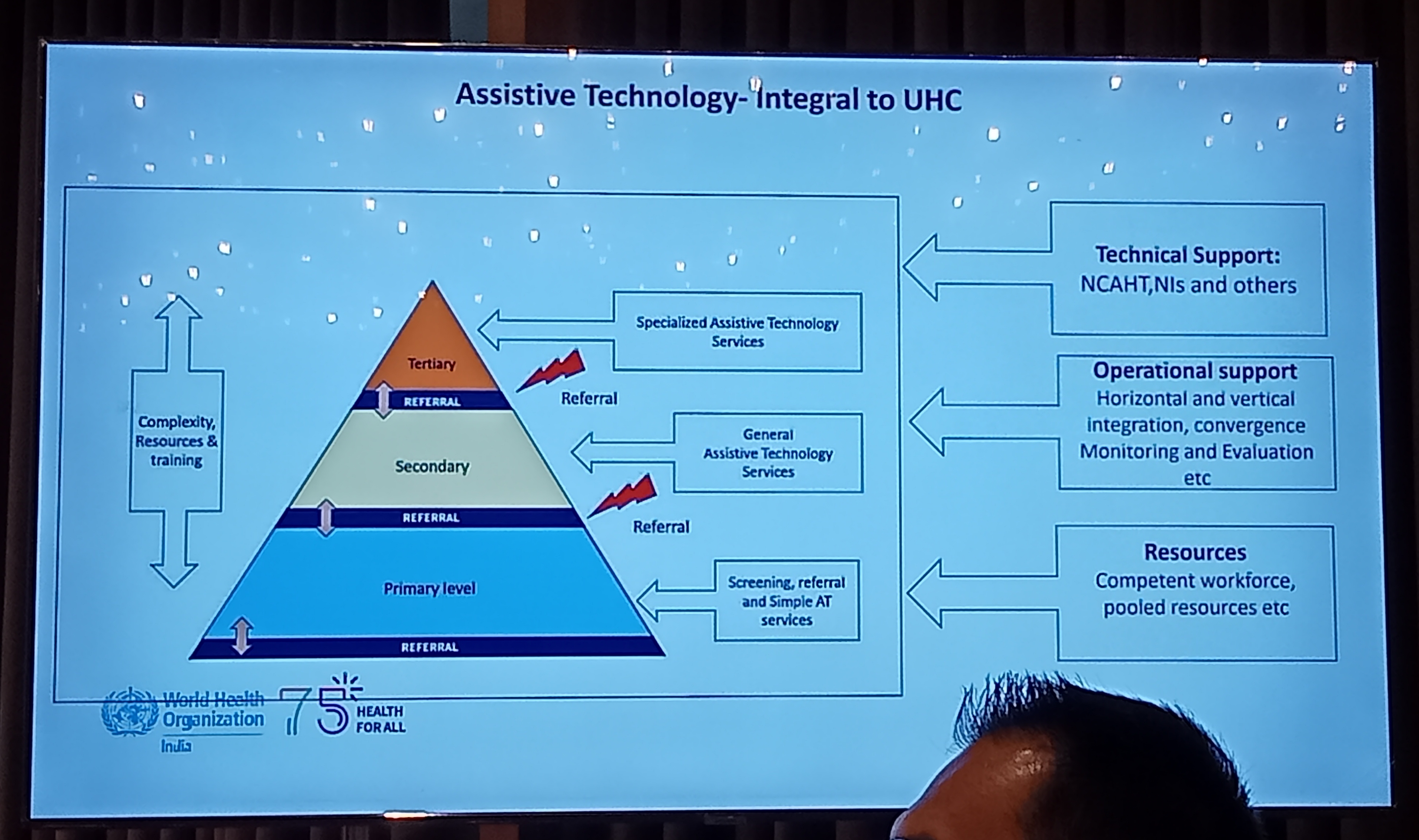 Integration of AT has to happen at all levels of health service delivery in India:
Primary level: the sub-centres, primary health centres, NGOs, etc. should be able to screen patients and provide simple AT services and refer patients to secondary level, if required.
Secondary level: the community health centres, district hospitals, and District Resource Centres should be able to provide general AT services.
Tertiary level: the national institutes, medical colleges, etc. should cater to specialised AT service requirement.
AT services need to be integrated vertically (with other disease programmes such as Leprosy, NCDs, etc.) and horizontally (with existing health care facilities / service delivery mechanism.)
Suggestions from persons with disabilities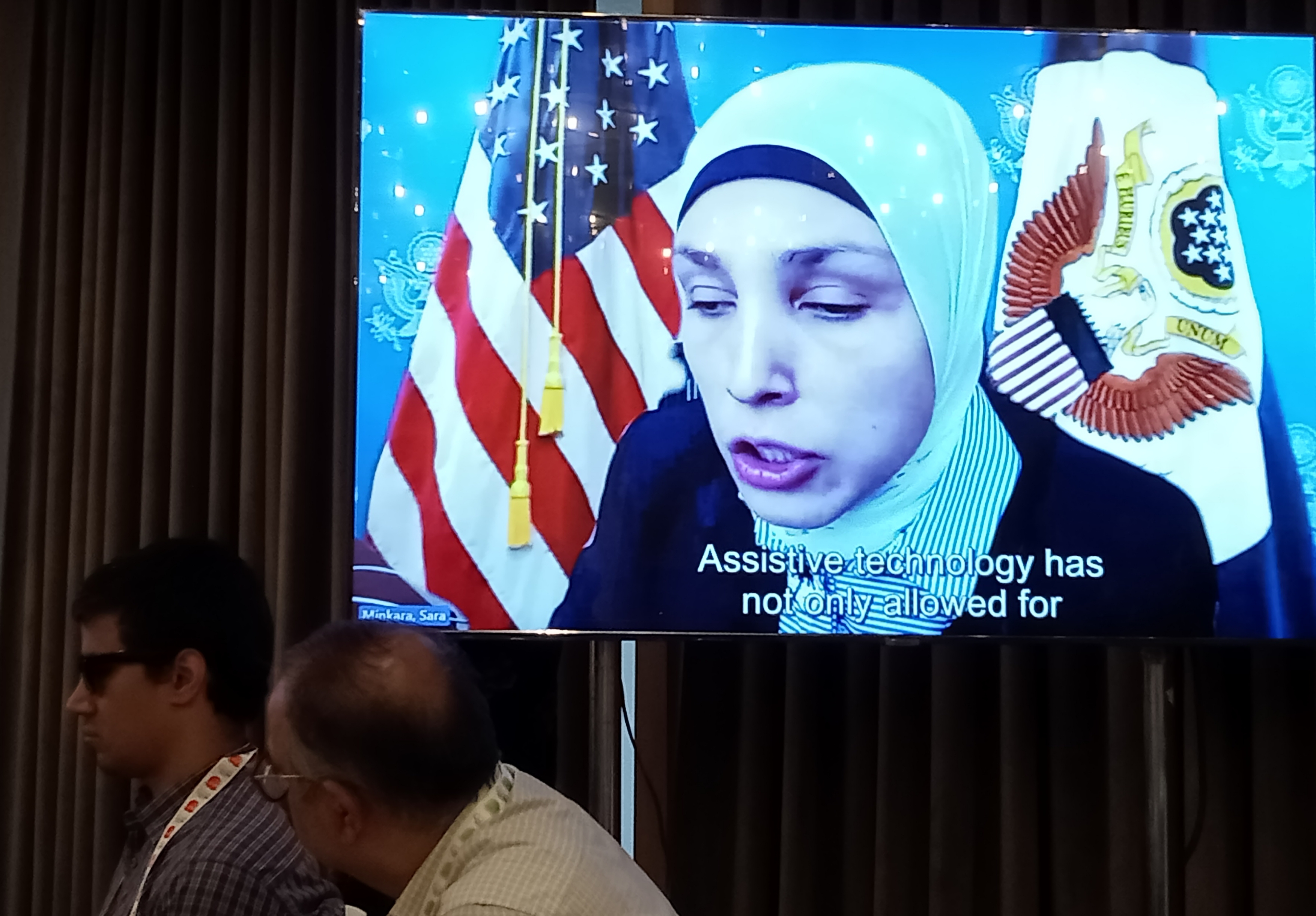 We need to divorce AT from persons with disabilities and think of it as a need for a wider population, including those who are old, who face temporary impairment, and those with certain chronic conditions.
To ensure innovation and investment in AT, we need to look at persons with disabilities not just as 2.2% of the global population, but as consumers. As Sara Minkara, Special Advisor to the US government on International Disability Rights, put it, "User-friendly and affordable AT devices are of benefit and value to the entire society. They benefit economy, as persons with disabilities are able to contribute to the economy and become independent citizens living in dignity."