A young entrepreneur in the making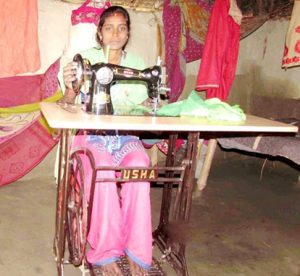 Twenty-year-old Ramawati's father Jiyutlal is a person affected by leprosy. They lived in Rampur village in Khushinagar district of Uttar Pradesh. They could hardly eat one meal a day from the money her father got working as a farm labourer. Her mother, who is sick, was forced to work in the field to supplement her family income.
Because of poverty, Ramawati couldn't study much. She dropped out of school when she was in 8th standard. TLM's Vocational Training Centre (VTC) team from Faizabad met her while conducting a survey in her village to identify potential candidates for its Community-based Vocational Education and Training (CBVET) programme. She was enrolled for a six month's tailoring course conducted in her own community.
"After I completed my training, I requested TLM to give me a sewing machine so that I could start my own home-based tailoring business. TLM gave me a sewing machine and supported me to set up my business. I am getting good business. My sick parents do not have to toil in the fields now. With my income, we're able to live a dignified life", said Ramawati