A silent social change in Uttar Pradesh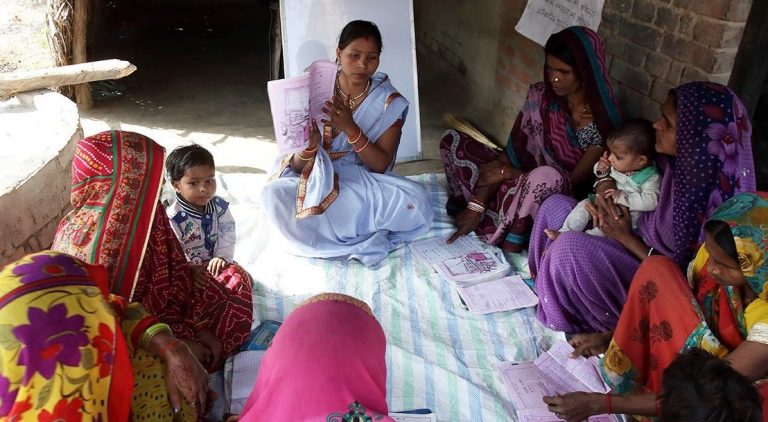 "It was always my dream to teach grown-up people, especially women, because I felt women should have access to education as it empowers them to live on their own. That's why I was thrilled when The Leprosy Mission Trust India's (TLMTI) WEALTH project (Women Empowerment through Advocacy, Livelihood Training and Health) asked me whether I could teach women in the adult literacy class the project was planning to start in my village. Before my association with TLMTI, my identity was that of a daughter-in-law and I was confined to the four walls of my home. If I had to go out, someone from my family had to accompany me," shares Pushpalata while introducing herself.
Twenty-eight-year-old Pushpalata, the mother of a 3-year-old child, did her Masters in Sociology and lived a quiet life at home in her village (Narayanbari) in Fatehpur block of Barabanki district in Uttar Pradesh.  Her husband is a teacher in a private school and her in-laws are into farming.
It was in March 2017 that Pushpalata came to know about the WEALTH project's adult literacy programme to be started in her village, where most of the women were illiterate and lived a cloistered life. Being an educated lady well-loved by others in the village, the project offered her a community volunteer's job, which she readily accepted. She was involved in the programme from the beginning – conducting a baseline survey in three villages, sensitising the community to the adult literacy programme, and mobilising women to join the classes. Sharing her challenges, Pushpalata says, "Women were reluctant to join the adult literacy class. They felt they were too old to learn. I had a tough time convincing them, but I succeeded.  A total of 30 women joined the class.  In my class, women affected by leprosy sit with others and study. This has greatly helped in ending leprosy stigma in my village," says Pushpalata with satisfaction writ large on her face.
The project provided her training in addressing social issues, such as hygiene and gender issues, and equipped her to do advocacy. As a community volunteer, Pushpalata is an all-pervasive presence in the village. Apart from being an adult education teacher, she works among women to promote self-help groups (SHGs), creates awareness about women's health, leprosy, and provides legal literacy, among others. Also, she supports women in accessing their rights and entitlements.   "My 'students' have learned a lot. Now, they can manage their own affairs. They have opened bank accounts and regularly save money-a habit they inculcated through the programme. They advocate for their rightful needs with the bank and Panchayat authorities," says Pushpalata.
In August 2017, she visited the government school in Randwara village and convinced the authorities to hold a parent-teacher meeting.  She mobilised the parents to attend the meeting and together, they advocated with the school authorities to improve the quality of education in the school. Their efforts paid off – the school has already become a much sought out school by parents. Moreover, she identifies school dropouts and encourages them to return to school.
A silent social change is happening in Fatehpur block. Older women who had lost the opportunity and crossed the age of formal education are engaging in systematic education to gain new knowledge and skills that would open new avenues for self-sufficiency. Government schools are again becoming temples of learning, with active community participation.
The force behind this? A committed lady who knows education is essential for the development of the country.