A reconstructive surgery that brought back smiles on Shilpa's face
A reconstructive surgery that brought back smiles on Shilpa's face
"I was scared and my future seemed bleak. There was no hope," says twenty-one-year-old Shilpa Rauteke, recalling the time she was diagnosed with leprosy three years ago. Shilpa developed patches on her hand and went to the local PHC for treatment.
Belonging to Vardha village in Gadchiroli district of Maharashtra, Shilpa took treatment for one year. The patches vanished but she gradually her fingers clawed in (a complication of leprosy). It was a matter of concern for her and her family. Shilpa was studying in Class 11 at the time.
"It was a difficult period for me. Although I had the full support of my family and friends, I faced difficulties engaging in daily activities. I could not write properly, and it affected my studies," says Shilpa.
Shilpa lived in constant fear for the past three years. She found hope when she was informed by the Government District Hospital about reconstructive surgery camp being held in TLM Kothara Hospital, in Maharashtra.
"When I came to Kothara, I was surprised to see so many people affected by leprosy. I realised I am not alone fighting the disease," says Shilpa with a smile. Although Shilpa has missed one year of her studies in college, she is optimistic that the future holds endless possibilities for her.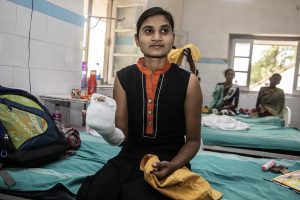 Shilpa Rauteke, after the reconstructive surgery at TLM Kothara Hospital, Maharashtra