A proud moment for TLM Muzaffarpur hospital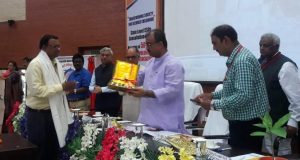 MUZAFFARPUR (BIHAR):  We are excited to announce that in a function organised in Patna, Bihar, today (July 20), Hon'ble Health Minister of Bihar, Shri Mangal Pandey, gave away Father Tong Memorial Award 2017-18, to TLM Muzaffarpur Hospital for outstanding performance and contribution in the field of 'Community Health and Development'.
Dr Milind Chavan, Medical Superintendent of the hospital received the award on behalf of the hospital
Father Tong Memorial Award is instituted by Bihar Voluntary Health Association, an association of 152 social development organisations, charitable hospitals, and health centres.
TLM Muzaffarpur Hospital was established in the year 1904. The leprosy hospital which started with 40 beds has now become a full-fledged hospital, where thousands of people from several districts of Bihar and adjacent states come for treatment for leprosy and other general ailments. The hospital provides holistic care for specialties, such as leprosy treatment and management, dentistry, dermatology, general medicine, general physiotherapy, ophthalmology, and reconstructive surgery. The hospital has a 61-bedded in-patient wing and provides best inpatient facility with 24-hour nursing care.