A mother's dream, a daughter's commitment
A mother's dream, a daughter's commitment
Irene's mother had a dream. Out of her five children, she wanted at least one to become a nurse.Irene's family belongs to Thickanamcode village in Kanyakumari, Tamil Nadu. Her father was a mason who worked on daily wages. With his meagre income, he found it difficult to take care of the family needs. That's why her mother took up tailoring to supplement the family income.
Irene completed her intermediate, but couldn't study further because of the financial problems at home. In 1985, Mrs Jeevanesan, a family friend who was working at TLM Dayapuram Hospital in Tamil Nadu, took her to Dayapuram and enrolled her for a course in nursing. After completing the course, in 1986, Irene joined TLM Salur Hospital in Andhra Pradesh as an Auxiliary Nurse. "I've always been passionate about nursing. Seeing this, in 1991, The Leprosy Mission sent me for a 3-year diploma course in GNM (General Nursing and Midwifery) at Christian Medical Centre, in Pithapuram, East Godavari, Andhra Pradesh. Further, I did my Post-Basic B. Sc (Nursing) degree programme at St. Xavier's Catholic College of Nursing, Kanyakumari," says Irene.
In 1997, she got married to Lawrence. Lawrence had done his diploma in mechanical engineering and runs his own tyre retreading business. They are blessed with two sons. The elder one is studying B. Tech in Chennai and the younger one is preparing for medical education.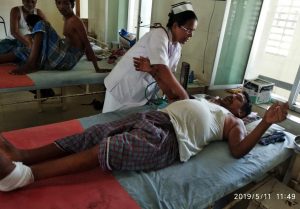 Sister Irene attending to a leprosy inpatient at TLM Salur Hospital
"I joined TLM Salur Hospital as an Auxiliary Nurse. The Leprosy Mission gave me the opportunity to study further and improve my nursing skills. Now, I'm working as the Nurse In-charge here. I've been working in TLM Salur Hospital for the last 32 years," says 53-year-old Irene.Ask her what motivates her to continue the work she does. She goes back to the time when a leprosy inpatient tried to kill himself because of the excruciating pain he had. Irene, along with other nurses, counselled him. Today, he is a happily married man, living a blissful family life. "The joy of leprosy patients, after they are cured, gives me immense satisfaction. Their happiness makes me serve leprosy patients even more," says Irene.
Today, as she looks back, she is grateful for the dream her mother had – she wanted at least one of her children to join the nursing profession. "God blessed my mother and helped two of her children become nurses. My sister is also in this profession. My mother has always valued the service of nurses," adds Irene, satisfaction writ large on her face.