A long-standing partnership – TLMTI provides specialised leprosy care in a health camp organised by the district administration of Viluppuram, Tamil Nadu
TAMIL NADU: The Leprosy Mission Trust India's (TLMTI) Vadathorasalur Hospital and Inclusive Empowerment Project (IEP) in Cuddalore, Tamil Nadu, provided specialised leprosy services in a health camp organised by Dr Santhosh Kumar, Block Medical Officer, Thiyagadurugam block, in TLM Vadathorasalur campus, on October 23. The camp was inaugurated by Dr Sudhakar, Deputy Director, Tuberculosis division.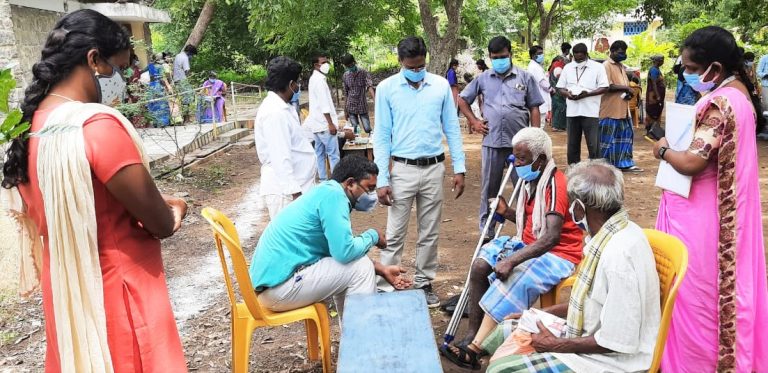 Dr Helen Roberts, Medical Superintendent, TLM Vadathorasalur Hospital and Mr Mannivannan, Programme Manager, IEP, led the team that provided specialised leprosy services, like ulcer care, aids, and appliances, protective footwear, pre-operative care for reconstructive surgery, screening for refractive error and cataract. A mobile therapy van from IEP and a mobile X-ray van from the government supported the team in providing these services to people affected by leprosy, tuberculosis, and lymphatic filariasis.
Of the 210 people who attended the camp, 36 people availed of X-ray services, 28 people underwent CBNAAT (cartridge-based nucleic acid amplification test), and 18 people affected by leprosy received MCR (microcellular rubber) protective footwear. The district administration also distributed nutrition kits to patients who are undergoing treatment for tuberculosis.