A double whammy and double strength to overcome them
A double whammy and double strength to overcome them
The question haunted them many days badgering their every waking hour. "Why us, why us," they asked themselves a thousand times!
The Leprosy Mission Trust India's PARTI (Partnerships, Advocacy, Research and Training towards Inclusion) project staff had done a good deal of leprosy awareness programmes in Vadakkupalayam village in Cuddalore district of Tamil Nadu. After this, the project set up an information centre and an early intervention centre in the village to help people get timely help when they confront leprosy.
In the second phase, the project organised screening camps for early detection of leprosy in various parts of the village. In one such screening camp, the project staff observed patches on 35-year-old Elizabeth Rani's face. The team referred her to the Primary Health Centre (PHC) in Palayankottai, where she was diagnosed with leprosy. She was put on multidrug therapy (MDT) to treat her leprosy.
Around a month into the treatment, Elizabeth developed complications of leprosy – lepra reaction and neuritis. The PHC and the district hospital in Cuddalore could not manage her case and so, the project team took her to TLM Vadathorasalur Hospital. The expert medical team of the hospital swung into action to help Elizabeth return to normal life.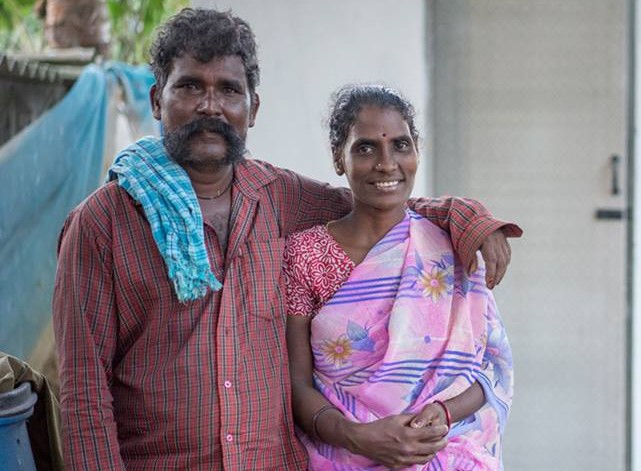 Elizabeth and Sundaram – facing the challenges together
As per the clinical protocol, the project team screened Elizabeth's family members for leprosy. Her two daughters and son were found to be free of any signs and symptoms of the disease, but the team noticed an anaesthetic patch on the right arm of her husband, Sundaram. The physician at Palayankottai PHC confirmed it was leprosy, and he was also put on MDT.
Elizabeth and Sundaram were startled at this turn of events. Not in their wildest imagination would they ever have thought they would be affected by leprosy. "Why us, why us," they asked themselves a thousand times. "No one in our house has leprosy, no one even in our neighbourhood has leprosy. How then we contracted the disease," they wondered.
They knew of the social stigma surrounding leprosy and feared social ostracisation. Every time Elizabeth saw her daughters, she asked herself, "Who will marry my daughters?" Even seeing her daughters became painful for Elizabeth!
Elizabeth and Sundaram struggled to accept the truth that they were affected by leprosy but couldn't. It took a few counselling sessions by the project team that saw them reconciling to the truth.
Elizabeth had studied up to Class 10 and was an agricultural labourer, whereas her husband, Sundaram, was a daily wage worker. They were living in a thatched hut without even basic facilities, like a toilet. In its commitment to rehabilitate Elizabeth's family and to provide them with a decent means of livelihood, the project team helped her join a self-help group. The team also worked with the local bank for a loan for her to start a backyard poultry farm. The project is supporting the family to build a toilet.
Having gone through many problems, Elizabeth knows the difficulties faced by people affected by leprosy and people with disabilities. She wanted to support them in overcoming the challenges they faced in everyday life. For this reason, she joined a Disabled People's Organisation (DPO) formed by the project. An activist now, Elizabeth, along with other members of the DPO advocated with the government for construction of accessible toilets in her village – and the government obliged and constructed 700 accessible public toilets!